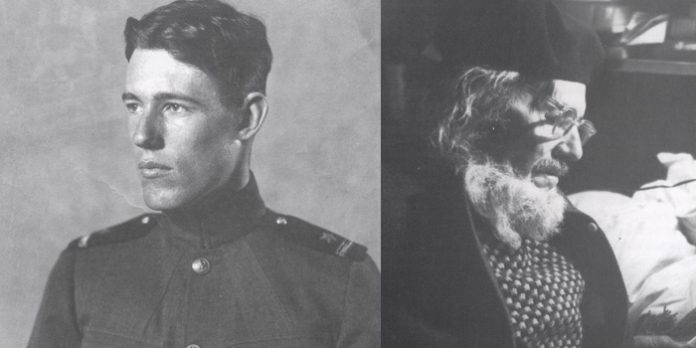 He may just be the most influential gay rights pioneer you've never heard of
Prescott Townsend may be the most influential Boston gay rights pioneer you have never heard of. If so, hang on; before we're through, Townsend will cross paths with Andre Gide, 1960s hippies, John Waters and his star, Mink Stole. And that's not counting the army of young men who lived with him on Beacon Hill and in Provincetown, as long as their waist sizes hovered very close to 30-inches.
Born in 1894, Townsend was Brahmin from head to toe. He claimed relation to no fewer than 23 Mayflower passengers and bragged that his third great-great grandfather signed the Declaration of Independence, Articles of Confederation and the Constitution. Author Douglass Shand-Tucci quotes a sardonic Townsend who referred to this relative as "the only man to be so inconsistent."
Townsend's early life followed a prescribed Brahmin path of prep school, Harvard, and military service. That path soon veered sensationally.
At Harvard, he had his first homosexual encounter "with a polo player." Restless after graduation, Townsend decided to travel in search of a more vital world. He worked at a logging camp out west where he lived among men who seemed not to miss the company of women. That some of them were members of the Industrial Workers of the World (Wobblies), which opposed capitalism must have influenced Townsend, though he was never particularly sympathetic to organized labor and was a lifelong Republican.
Returning to Boston, Townsend moved to Beacon Hill where he met Elliot Paul, an experimental theater producer. Writer, Lucius Beebe, a contemporary of Townsend's, described Paul as the quintessential 1920s Bohemian who wore a Van Dyke beard and favored broad-brimmed hats. He and Townsend quickly became inseparable. Together, they created The Barn Experimental Theatre in 1922. Townsend's steady if modest trust income came in handy. Beacon Hill during the Roaring Twenties bristled with Bohemian culture.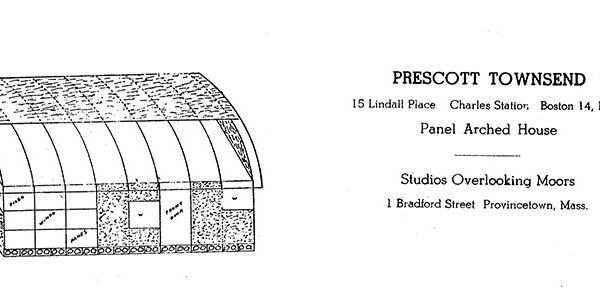 Soon, Townsend and Paul traveled to the tip of Cape Cod were they met members of the Provincetown Players, who were also staging avant-garde productions, including those of Eugene O'Neill, that helped create modern American drama. If O'Neill and Townsend ever met is not known, but he became friendly with other members of the group, including journalist, Mary Heaton Vorse and playwright, Susan Glaspell. Again, Townsend's trust fund was tapped. Adrian Cathcart, Townsend's authorized biographer, noted that Vorse "gave (Townsend) to know in no uncertain terms, just how his money could best be spent."
Townsend loved to travel. In the early 1920s, he and Elliot Paul visited Paris, which was at its Bohemian peak. Since Paul already knew Gertrude Stein, Picasso and Earnest Hemingway, it is impossible to imagine that Townsend failed to meet them. But for Townsend, his most significant encounter was with André Gide. Since coming out in print in 1926, Gide was already known as a potential successor to Oscar Wilde. Years later, Townsend claimed that Gide had presented him with a Bedouin cloak first owned by T.E. Lawrence.
During the 1930s, Townsend entered history by testifying at the State House for a gay rights bill. As a Brahmin, he was politely received but swiftly dismissed. He was back the next year and the next after that, meeting with the same polite indifference. The Depression did not slow Townsend down. He opened several "tea rooms" on Beacon Hill: the Joy Barn, the Brick Oven, and the Saracen's Head. Though he had no license, liquor was served discreetly.
The year 1943 marked another turning point for Townsend. He was arrested for "committing an unnatural and lascivious act" and sentenced to 18 months hard labor at Deer Island House of Correction. As it turned out, he was released on VJ Day. He said later, when he saw the celebrations in town, he thought they were for him. This arrest severed ties with most members of his family and got him thrown out of the Social Register, which delighted him.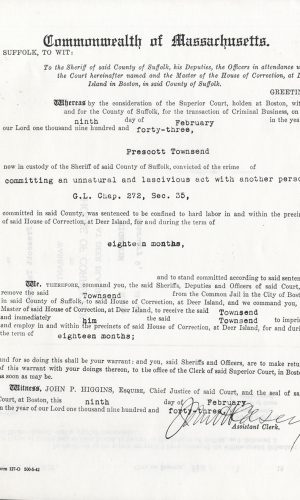 In the 1950s, Townsend started the Boston chapter of the Mattachine Society, the first national gay rights organization that had began in Los Angeles under Harry Hay. He organized meetings, wrote letters and subscribed to One Magazine, an early gay publication. He also developed his "Snowflake Theory" which essentially posited that a person's sexuality is as unique to them as one snowflake is to another.
When the 1960s arrived, Townsend enthusiastically welcomed hippies and runaways to his Lindall Place and Phillips Street buildings and his house made of driftwood in Provincetown, called "Provincetownsend." Joe McGrath recently recounted a story from his time as "one of the boys." At 15, he had gone to Provincetown in the summer of 1962 with some friends. Somehow, he had gotten separated from them. Without enough money to get back home, he sat dejectedly on a bench front of Town Hall when another young man approached him. "He asked me why I looked so sad and I told him my story. He said, 'I know where you can stay for 35 cents a night.' He took me to Prescott's place. When I got there, Prescott welcomed me and showed me to the second floor where I slept." There were always boys coming and going. A few years later, John Waters met his future star, Mink Stole, who was staying at Provincetonsend. Waters later described the house and its occupants as "a lunatic Swiss Family Robinson," meaning of course, that he loved it.
In his last years, Townsend's adamant eccentricity began to backfire. Hustlers and drug addicts replaced the arty young men who had for so long delighted him. In 1968, "Provincetownsend" burned to the ground, some say, suspiciously. His Beacon Hill buildings, which for years, had failed to meet city code, were also destroyed by fire. With nowhere to live, Townsend moved to a friend's apartment where in 1973, he was found dead near his bed, in a kneeling position.
Prescott Townsend's death effectively ended the Boston branch of Bohemia. Power politics had replaced the satiny metaphors and masked allusions of art that had sustained LGBT people for generations. [x]