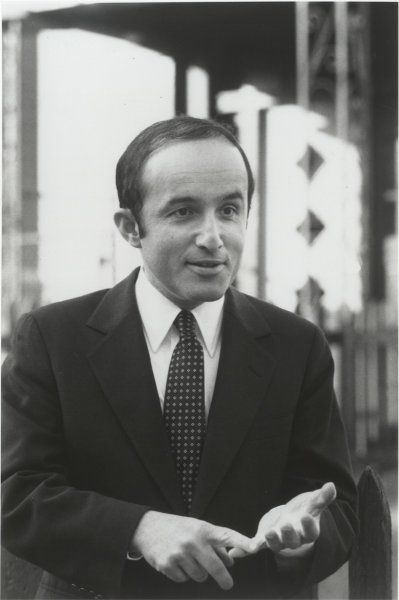 For the first time in years, a troop of Boston mayoral candidates sift city neighborhoods for votes. At T stops and in coffee shops candidates reach for every hand, seeking just enough votes to lift them into the final when the bulky field shrinks to a two-person runoff. It's hard work. After so many years with the same mayor, Bostonians are not used to choosing from such a large field. For the longest time, it was either the Mayor or the fly in the ointment. And the mayor won, no problem.
Look back 30 years ago and the above paragraph still stands, with one difference. That was the last time voters chose from such a large group of mayoral candidates, but it was the first time in the city's history that they openly sought the gay vote.
Like current Mayor Tom Menino, then Mayor Kevin White had served so long at City Hall, his persona and the city's fused until it was hard to tell them apart. Though White ended his tenure amid lingering ethical questions, he exited to general applause. Where Menino embodies the city's blue-collar outer neighborhood work ethic, White was all glamour and big ideas; 1983 Boston was after all, an era still in the shadow of John F. Kennedy.
While there is a thriving LGBT community in most Boston neighborhoods today, back then, the city's gay population was clustered in the Fenway, Jamaica Plain, the north slope of Beacon Hill, and in the South End.
Issues were more basic, centering foremost on survival. It was common for women leaving bars to be followed and harassed by young men. Murders of queer people, especially transgendered people, went unsolved amidst claims of police indifference. The summer before, The Gay Community News office on Bromfield Street was destroyed by a fire, which later was ruled arson. And a few years before that, the paper's police reporter, David Brill, was found dead the day after attending a fundraising party at a new bar on Boylston Street called Buddies. Cyanide was found in his body and his death was ruled a suicide, but his friend, the late Eric Rofes said at the time that Brill was "full of plans" the night before his death and that "no way" was it a suicide.
And just two summers before the 1983 mayoral election, a New York Times story reported that "a rare cancer [was] seen in 41 homosexuals." AIDS had arrived.
After city officials ignored years of federal injunctions to integrate the public schools, Judge Arthur Garrity ordered school buses to roll through South Boston and Roxbury in 1974. The result was a mass exodus of the city, leaving relatively cheap housing for young gays escaping small towns from Maine to Connecticut, and gay college graduates from all over. According to a 1994 Boston Globe article, between 1970-1980, "12 percent of the population had left Boston… Nearly every neighborhood had lost between a sixth and a quarter of its residents."
The city was shabby then. Litter flew atop breezes down city streets and if you fell into the Charles River or Boston Harbor, you were advised to get a tetanus shot.
On a mild spring evening in May 1983, a candidate's night sponsored by the Boston Lesbian/Gay Political Alliance was held to an overflowing crowd of 250. It was the first time mayoral candidates had ever attended a forum sponsored by a gay group in Boston. At the end of the night, two candidates emerged with the strongest support, former State Representative Mel King and former City Councilor Larry DiCara.
DiCara, who had supported gay rights bills in the City Council since his election in 1971, eventually won the endorsement of the two gay political organizations that existed then, the Massachusetts Gay Political Caucus and the Boston Lesbian/Gay Political Alliance. He was also endorsed by a new gay paper, Bay Windows. Founder and editor, Sasha Alyson, recently recounted why he went with DiCara, "It was definitely our first endorsement. [DiCara] was well-qualified to be mayor in terms of both experience and ability, and was fully supportive on gay and lesbian issues."
For his part, Mel King who had long supported gay rights, also received strong gay support which helped push him into the runoff with Flynn. Flynn won the final easily and was re-elected mayor twice.
David Scondras also gave gay voters in downtown Boston motivation to go to the polls. He won, becoming the first openly gay Boston city councilor.
Musing on the current mayoral contest, Larry DiCara sees a dramatically different city from 30 years ago. "A lot of the haters got out of the city in the 1970s. … The vacuum was filled by people who wanted to live in a neighborhood that was multiracial and included gays. The good news is I don't think there is any [mayoral] candidate now who is not supportive of gay rights, marriage equality, and adoption." [x]