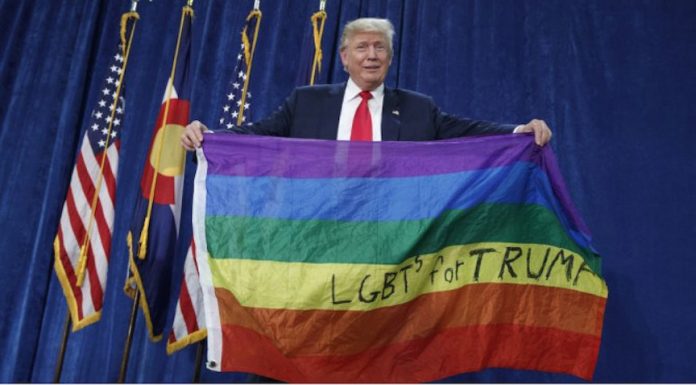 Anyone still in doubt that Trump's cavalier behavior reflects dangerous disregard for the American people he was elected to serve can look no further than yesterday's break-neck about face against transgender people serving in the military.
Without warning—even to many top military brass—and characteristically without any plan or any sign of serious study, Trump announced in a Tweet a reinstatement of the ban on transgender military serving in all U.S. armed forced. That ban had been lifted during the previous Obama Administration.
Thousands of service people currently deployed around the world woke up yesterday to the unsettling news that their careers were in jeopardy.
This includes an estimated 15,000 active duty service people according to Mason Dunn, campaign co-chair of Freedom Massachusetts. Added to this group is a very conservative estimate of up to 4,000 reserves, according to the PBS Newshour.
U.S. Congressman Seth Moulton of Massachusetts weighed in on Trump's decision shortly after Trump's Tweet:
"It sounds like the same argument used against African-Americans, used against gays, used against whoever else—simply people who are willing to put their lives on the country, which by the way, is far more than President Trump has ever been willing to do."
Trump "got five deferments to avoid serving, himself," Moulton pointed out. "This is despicable."
Rep. Joe Kennedy, Moulton's fellow U.S. Congressman from Massachusetts announced in a speech on the House floor yesterday that service people "do not discriminate" and that the government "owes them that same courtesy, that same decency in return."
Kennedy retweeted Trump's pledge to "fight" for the LGBT community, adding: "Correction. They will fight for you. You will abandon them."
Massachusetts Senator Elizabeth Warren was also quick to weigh in, tweeting: "By attacking thousands of troops, @ realDonaldTrump makes clear that he cares more about extreme ideology than military readiness." and "@realDonaldTrump can pretend this is a military decision, but it isn't. Banning troops on gender identity is shameful & makes us less safe."
Ed Markey, Warren's fellow U.S. Senator from Massachusetts, quickly put out this official statement:
"Donald Trump powered his campaign for President by belittling prisoners of war and insulting a Gold Star family, and now he's targeting the transgender servicemembers who protect our freedoms and democracy with honor and courage. Transgender servicemembers aren't a distraction, they are dedicated patriots and Americans welcome their service and love of country. By threatening to kick skilled military professionals out of the military based only on their gender identity, President Trump is undermining our military readiness and the Defense Department's success in building a diverse, cohesive military that respects the human dignity of all of its members. President Trump is playing to the worst instincts of prejudice, bigotry, and ignorance with this ban. Division and exclusion only makes our military weaker, not stronger.
"President Trump's transgender military ban, like his Muslim ban, is un-American and unconstitutional. Every American, no matter their race, faith, sexual orientation, or gender identity, should be allowed to express their commitment to the United States through military service, and those individuals deserve our respect and support."
For his part, Massachusetts Governor Charlie Baker issued in a statement yesterday that he "believes no one should be discriminated against based on their gender identity, including the brave men and women who serve in our armed forces."
Boston Mayor Marty Walsh issued the following statement:
"The Trump administration's decision to ban transgender people from the military alienates Americans who should be praised for their willingness to serve our country. It is shameful and un-American to turn away individuals who are willing to put their lives on the line for a country they love, solely based on their gender identity. No American should be prohibited from the honor and privilege of serving our nation."