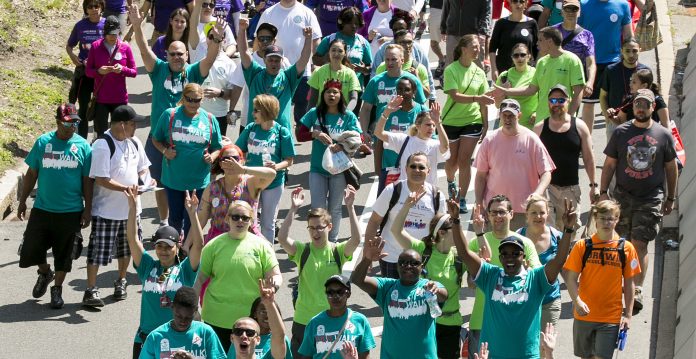 Mark your calendars and get out those comfy walking or running shoes. The 32nd annual AIDS Walk & Run Boston takes place on Sunday, June 4. Registration starts at 7:30 a.m. at the DCR Hatch Memorial Shell on the Charles River Esplanade, where both the walk and the 5K Run begin and end. After opening ceremonies at 9 a.m., the 5K Run begins at 9:50 a.m. and the Walk sets off at 10 a.m.
Registration is currently underway at at www.aidswalkboston.org. For the walk, there's no registration fee or a minimum fundraising requirement. There is a $35 registration fee for the 5K Run. AIDS Action expects to raise approximately $1 million from the event.
"We're working hard to get to zero new HIV infections in Massachusetts, and we're making progress," said AIDS Action Executive Director Carl Sciortino. "The money raised by the AIDS Walk and 5K Run is critical to those efforts. The public awareness raised by the event is as well. About 700 people a year in Massachusetts are newly diagnosed with HIV, and will not get to zero without additional outreach and prevention efforts, especially in educating those at risk about PrEP."
The AIDS Walk was first held in 1986 and is one of the first fundraising walks to be introduced in Boston, as well as the country. The 5K Run was added to open up fundraising to runners. Historically AAC's largest fundraising event, it has raised over $39 million for programs and services to support those living with and at risk for contracting HIV/AIDS.
AIDS Action Committee of Massachusetts is the state's leading provider of prevention and wellness services for people living with and at risk of HIV/AIDS. AIDS Action works to stop the epidemic by eliminating new infections; maximizing healthier outcomes of those infected and at risk; and tackling the root causes of HIV/AIDS.
Founded in 1983, AIDS Action is New England's oldest and largest AIDS service organization, advocating for the needs of people living with HIV/AIDS by educating the public and health professionals about HIV prevention and care; and promoting fair and effective HIV/AIDS policy at the city, state, and federal levels. In 2013, AIDS Action Committee of Massachusetts entered into a strategic partnership with Fenway Health, allowing both organizations to improve delivery of care and services across the state and beyond.