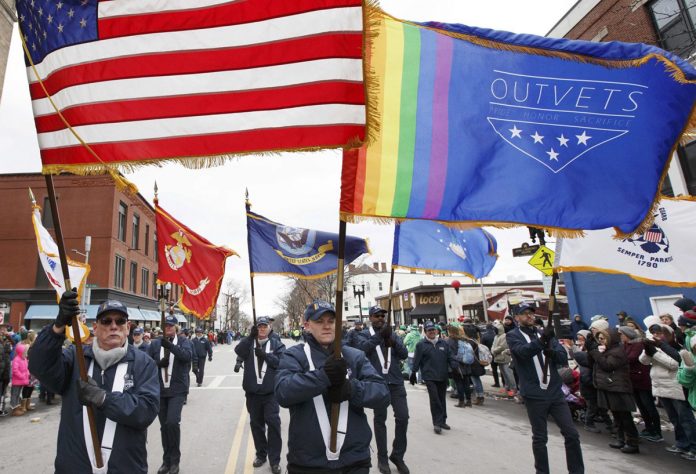 How Outvets' victory over the old guard made Irish eyes smile again in Southie
The blowback came swift and harsh.
When the Allied War Veteran's Council of South Boston notified Outvets that its leadership had voted 9–4 to exclude the LGBT veteran's group from returning for the third year to march in the 116th annual Boston Saint Patrick's Day Parade—just a week and a half before the event—the news was met with sharp rebuke.
Criticism came from government leaders like Boston Mayor Marty Walsh, Massachusetts Governor Charlie Baker, U.S. Congressman Stephen Lynch and Senator Edward Markey. All of these officials and more said they'd boycott the parade if Outvets was denied its place. Corporate sponsors like Stop and Shop, Anheuser-Busch, the Dedham Institution for Savings and Boston Scally Co. withdrew their support. Media outrage came from The Boston Globe, New York Times, Washington Post, Advocate, CNN and many other outlets, and their reports went viral across social media. Perhaps most telling, Southie residents cried "enough already," the Council's decision was making their neighborhood look bad, and they wanted Outvets back in their parade.
"The parade organizer's decision was one of the worst political miscalculations I have ever seen, and I've been in politics for almost 20 years," said Dee Dee Edmondson, a public affairs and government relations attorney who volunteers her time and services for the LGBT veterans group. "The nearsightedness of it all was just astounding."
Retrying an old agrument
The call came at 10:45 p.m. on Tuesday, March 7. When Bryan Bishop saw who was calling him at home so late, he knew it wasn't going to be good news.
Bishop is Outvets' founder and CEO. A 20-year Air Force veteran, he'd been instrumental in getting the group into the parade in 2015 and again in 2016. To make that happen, he'd worked closely in step with Mayor Walsh, Congressman Lynch, State Rep. Nick Collins and the late Brian Mahoney, former commander of the Allied War Veteran's Council.
Before that, an LGBT group hadn't marched in the parade in 25 years. Back then, all along the parade route, they were heckled, threatened, spit on, tossed at with rocks, bottles and smoke bombs. Ultimately, they were kicked out for good by a legal case that went all the way up to the Supreme Court in 1995—"Hurley vs. Irish-American Gay, Lesbian and Bisexual Group of Boston"—which the LGBT marchers lost in a unanimous decision.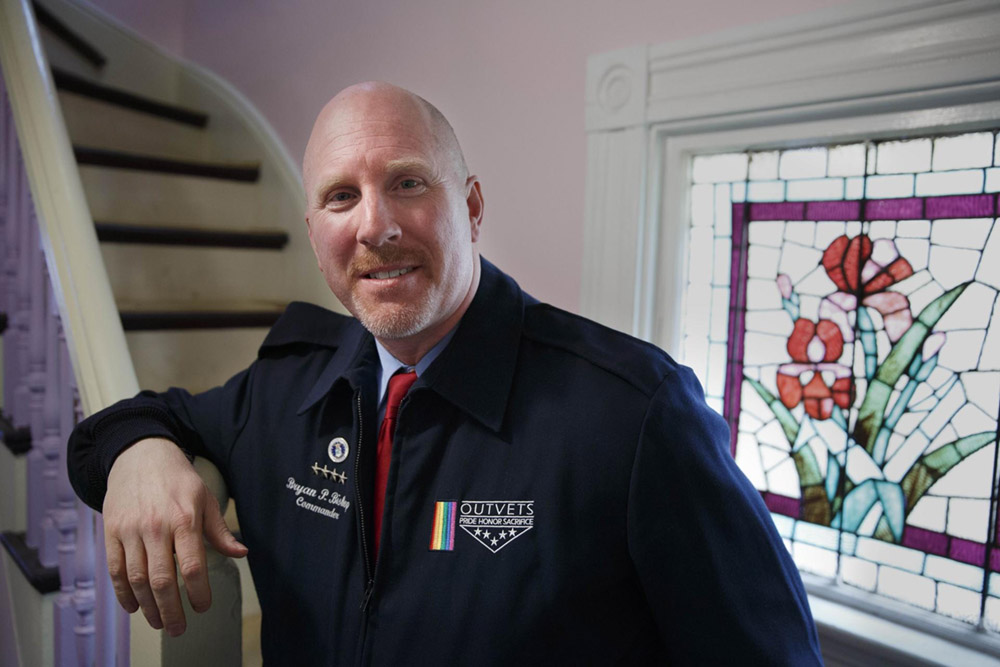 Contrast that disastrous experience with Outvets' first march two years ago. In 2015, U.S. Congressman and Marine Corps veteran Seth Moulton marched with the group, prominently positioned at the front of the parade. Boston mayors hadn't marched in the parade for two decades since the LGBT ouster, but in 2015 Mayor Walsh, joined by Governor Baker, ended the boycott, telling the Globe "It's a huge step. Society has changed. Southie has changed. Boston has changed. I think this opens the door to putting years of controversy behind everybody."
The following year, in 2016, the Council placed Outvets at the end of the parade line-up, separating them from all of the other veteran's groups, but Outvets still marched, and they marched proudly.
And then came 2017. Bishop's late-night phone call was from Council member Ed Flynn. "I have bad news," Flynn said. "The Council voted to exclude Outvets this year." Bishop asked him why. "Well they had a lot of reasons and they were all bad," Flynn told him. Bishop asked him to be more specific. "Well they were just all bad ideas, bad reasons," Flynn replied. Bishop asked him if it was because they got their application in late. (The Council had received Outvets application on the very day it was due, February 15. Bishop had sent it by both express mail and email.) No, Flynn assured him, that wasn't the reason.
Flynn "hemmed and hawed" a while longer, said Bishop, but gave no reason for Outvets dismissal from the parade that night.
The call hadn't really surprised Bishop. OUTVET's strong ally and Council commander Brian Mahoney had passed away the previous November. "After the funeral, a few of us went out to lunch," Bishop said, "and one of the people from South Boston, someone who knows these things, said, 'They're going to try to kick you guys out this year because with Mahoney gone and the current [post-Trump-election] climate, certain people are feeling emboldened to reverse this.'"
They're going to try to kick you guys out this year because with Mahoney gone and the current [post-Trump-election] climate, certain people are feeling emboldened to reverse this.
After Bishop hung up with Flynn, he picked the phone up again and dialed the night desk at The Boston Globe. He spent the next four hours on the phone with reporters. He also called Mayor Walsh and contacted his board. At 3 a.m., he went to bed.
One of the board members Bishop contacted, John Affuso, an Army veteran and the group's senior vice commander, was preparing to leave for Washington, D.C. the next day to attend the Human Rights Campaign's annual spring equality convention. Affuso is also a Boston steering committee chair for HRC. "My first reaction was this is just going to blow up in the Council's face because we've marched for the past two years, following the guidelines, and nothing's changed."
Affuso had moved to South Boston the previous September, close by Broadway Station near the start of the parade route. "The 9–4 vote to keep us out of the parade certainly didn't reflect the neighborhood. And from our prior years marching, I can tell you there's definitely been a lot of long-term Southie residents along the side of the parade who are extremely supportive," he said.
On Wednesday morning, at the HRC convention in Washington, Affuso reached out to Congressman Lynch, who represents the South Boston district. The two discussed the Council's decision, and by the end of the week—in the midst of the House vote to repeal the Affordable Healthcare Act—the Congressman was on a plane to Boston.
Taking the stand
Meanwhile in Boston, Flynn and fellow Council member Tim Duross met with Bishop and Edmondson in the lobby of the Omni Parker House to try and sort things out. It was Wednesday afternoon, the press was all over the story and the Council was feeling the heat.
The Council members told Bishop and Edmondson that Outvets' application to march in the parade had been late after all. Bishop pulled out a copy of the application and pointed out there was actually no due date on it, reminding Flynn that he'd received the email on time and that the due date had only mysteriously appeared on the website around the time Flynn had called him back in February.
Next, Outvets was accused of violating the parade's code of conduct. Bishop asked the Council members to elaborate. The previous year Outvets had been asked to remove the rainbow flag from the parade. Outvets hadn't complied because the rainbow color bars are part of the group's trademark logo. Back in 2016, Outvets told the Council this and the issue was dropped. (Point of fact: Outvets doesn't march with a rainbow flag, just these color bars, stitched into their emblem, that symbolize an intrinsic part of their identity.)
Bishop then asked how the rainbow flag violated the code of conduct, and was told that the rainbow flag violated the code's ban on any depictions of sexuality. This angered Bishop. He looked down at the rainbow bars on the Outvets logo and said, "Does this make you hot? Because if this makes you hot, you've got more problems than I do, brother. Do you know what the rainbow flag even stands for? It stands for hope. It stands for peace. It stands for equality and diversity and inclusion. If you look at this and all you can see is sex, then you've really got problems."
The Council members said they'd lost support from the Catholic Church. (Actually, it was the Massachusetts State Council of the Knights of Columbus and the Immaculate Heart of Mary School in Harvard—not the Archdiocese of Boston—that pulled out of the parade when Outvets first marched in 2015. According to Duross, the Council reached out to Cardinal O'Malley for support, but the Church refused to get involved. A spokesperson for the Cardinal said he was unaware of any such communication.) Duross told Bishop that the parade was a religious event. Bishop reminded him that the parade was officially a veteran's event. Privately, he thought, "you want to call this a religious parade when you've got all these underage kids vomiting on the streets from drinking? When it's a big, old drunkfest?" Out loud, he said, "Come on, try again."
"We've marched in your parade twice," he told them "We've marched in Pride parades, we've marched in city parades, we have been honor guard for many more events. And you want to sit here and disrespect the service and sacrifice of veterans who just so happen to be in the LGBT community. Many who were willing to go to war and die without anyone knowing who they really were."
At that point, the meeting was pretty much over.
Flynn said, "Well let's just take it back and call for a new vote." In parting, Flynn added, "You know, I have to say that you guys always look sharp and have never given us any problem in the parade."
"Then why are we really here," thought Bishop. "Because we're gay," thought Edmondson. "We all know their code-of-conduct argument is just code for 'Don't be gay. March silently. Look like us, act like us, don't be gay.'"
The lobby of the Omni Parker House is not the best place to have a private meeting. Waiting at the doors were more reporters and TV cameras. As Edmondson said, "With the parade a week away, we didn't have time to retry that old Supreme Court case. But we were trying the case in the court of public opinion, and we were winning."
Things proceeded quickly from there. The Council called for a re-vote. By the end of the week, Congressman Lynch arrived from D.C., went to the Council's meeting on Friday night for the re-vote and brought with him a group of young Iraq and Afghanistan veterans from Southie. Since its first parade in 1901, the Allied War Veteran's Council of South Boston had changed over the years. Now, not one member of its leadership council was a veteran and few even lived in South Boston, said Edmondson. They were the "old guard."
It was time for a changing of the guard.
Case closed
Friday night, the re-vote came in at 11–0 in favor of Outvets. What moved the vote from 9–4 against to unanimously in favor? While no Council member could be reached to speak on record, Edmondson said the answer was clear: pressure from the press, parade sponsors, elected leaders and their neighbors.
The Council also granted Outvets a permanent place in the parade. Plus, said Bishop, "the young cats basically staged a coup. They're getting ready to put new leadership in there. The parade management is going to be a lot more transparent. It's going to have a lot more people in the community taking part and helping to plan and execute it."
"The goal is to clean things up, crack down on the underage drinking and make this multi-million dollar tourist attraction for the city of Boston more of a family event," says Edmondson.
Maybe the Catholic groups that left the parade will come back.
As for Outvets, the mission statement is simple, says Bishop. "We honor service and sacrifice to LGBT veterans, their families and their friends."
But the group's actual mission goes further.
"We want to identify the veterans—people who served, are still on active duty, in the guard and reserves," he said. "We want them to know they have a welcoming place. To socialize, to participate in community service and to be able to inquire about support services such as housing, health care. We want to help veterans who left the service before Don't Ask, Don't Tell and DOMA upgrade their discharge status. We want them to know we're their if someone's just having a hard time. If you're not a veteran, we have an auxiliary for friends, family, anyone who just has a passion for supporting veterans."
Outvets marched in Boston's 116th Saint Patrick's Day parade. Tens of thousands of people cheered them on. Spectators waved rainbow flags along the entire route.
Of the three times we've marched, this was certainly the most enthusiastic reception we've gotten from the spectators.
"Of the three times we've marched, this was certainly the most enthusiastic reception we've gotten from the spectators," Affuso said.
Following the parade, the group hosted an after-party at Cathedral Station. "So many people and a lot of them from South Boston, came out to show their support," said retired Navy veteran Robert Santiago, Outvets' senior vice commander and chief operating officer. "You could see it in their eyes, how happy they were." Santiago contrasted this emotional outpouring with the equally supportive but angry postings he had received only days earlier from South Boston residents over the Council's behavior.
"It was like a shot in the arm that revived us all," Santiago said. "It energized us about where to go next. There's so much work to be done. It was a wake-up call."
For Edmondson, the message was clear: "Don't be complacent. Don't believe that all is lost in this current political climate. Don't stop paying attention. It might take a lot of effort, but we need to keep fighting. Because we're not marching backwards."
"I'm looking forward to marching next year," said Affuso, "when we don't have to get surrounded by TV cameras and 50 photographers, and we can just march like any other group of veterans in the parade, which is all we really want to do." [x]