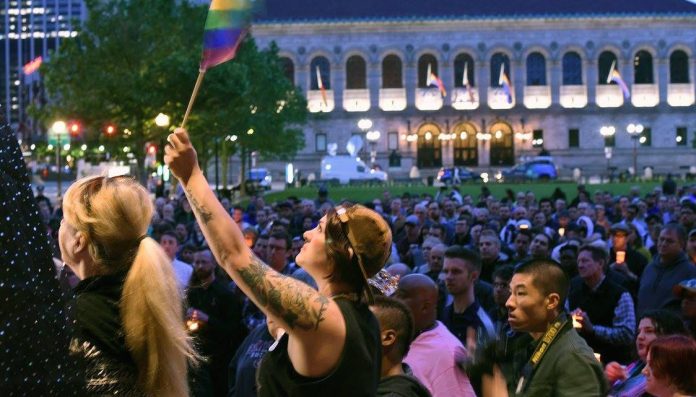 Although reports of hate crimes in Boston fell by almost 10 percent this year — even as they surged in other major cities — the LGBT community remained the primary target in 2016, as it was in 2015.
What's more, numbers from the first two months of 2017 show no change.
According to a March 22 Boston Globe analysis of police data, hate crimes against the LGBT community surpassed those aimed at all other groups, including Muslims, Jews, Latinos and Asians. Black people were the second largest group targeted, making black LGBT people along with transgender people of all ethnicities especially vulnerable.
Reports the Globe:
The latest Boston police data show 275 hate crimes and bias incidents were reported in 2016 — down from 301 in 2015. Of that total, about one-third were directed at members of the lesbian, gay, bisexual, and transgender community. Black people were the second most common targets.
After police investigated each incident, they determined that about half rose to the level of hate crimes, which are defined as criminal acts coupled with behavior motivated by bigotry or bias.
Across the country, scrutiny of hate crimes has intensified amid mounting reports of violence in recent months against transgender people, Muslims, and South Asians, and a spate of bomb threats leveled at Jewish organizations and swastikas scrawled on homes and in schools.
Nationally, blacks by far have been the most common victims of hateful acts for the past quarter-century, Levin said.
Yet Levin is seeing an ominous spike in hateful acts against people in the LGBT community in several cities, including New York and Washington. In the borough of Queens last week, a man was charged with a hate crime in connection with an attack on two transgender women outside a McDonald's.
Levin said transgender people appear to be particularly vulnerable.
"We are extremely worried about this," he said.
The Trump administration in February revoked federal protections for transgender students, scrapping guidelines that advised schools to treat transgender students consistent with their gender identity. Levin said this action, and earlier comments regarding protections for the LGBT community during last year's divisive presidential campaign, may be fueling some of the increase in hateful acts.