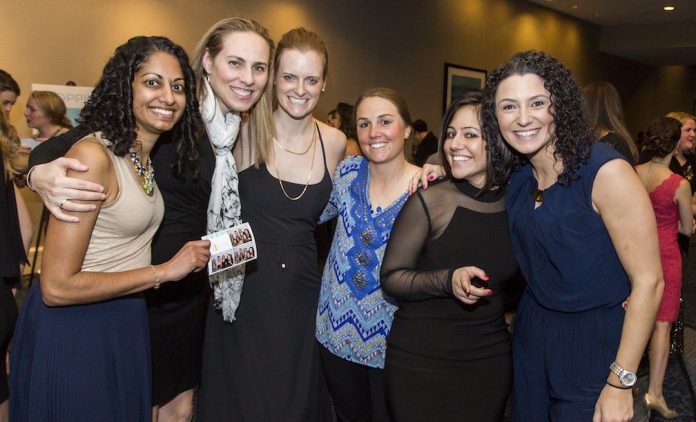 Tireless advocate for women, health care and community, Ann Maguire has been named the recipient of Fenway Health's Susan M. Love Award, which will be presented at its 26th annual Fenway Health Dinner Party on April 8, 2017. The incomparable Lea DeLaria will bring her vocals, wit and personality to entertain.
The evening promises once again to host more than 1,100 sharply dressed lesbian and bi women, transgender people and their allies in the Copley Ballroom of the Boston Marriott. In addition to enjoying DeLaria's talents and fêting Maguire, attendees will be served a gourmet dinner, groove to more fabulous entertainment and bid on auction items, all while supporting the lifesaving work of Fenway Health.
All Dinner Party tables seat 12 people and table captains provide tickets for their guests. Those interested in purchasing tickets and do not have a Table Captain, can select a mix and mingle table or seat me anywhere. Call Fenway's Development Department at (617) 927-6350, email information@fenwayhealth.org or visit the event's ticket page.
According to Fenway:
[Maguire] began her career in public service as the campaign manager for Elaine Noble, who in 1974 won a seat in the Massachusetts House of Representatives, becoming the first openly gay person elected to a state-level office in the United States.
Ann served as the Mayor's Liaison to the LGBT Community from 1984 to 1987. During the 1980s, she also served on the Board of Fenway Health, was Co-Chair of the Massachusetts Lesbian & Gay Political Caucus, and was a Founding Member and Vice Chair of the Boston Lesbian & Gay Political Alliance.
For decades, Ann has worked to increase breast cancer awareness and research. She was a founding member and served as Vice President of the National Breast Cancer Coalition and President of the Massachusetts Breast Cancer Coalition. In 1993, she was a founder of the Silent Spring Institute to study environmental links to breast cancer.
Ann has also been a tireless advocate for the homeless. She developed the first census of homeless people in Boston, which remains a model for major American cities to this day. She has volunteered with shelters such as Rosie's Place and the Pine Street Inn, developed a food pantry, and served on the board Helping Our Women (HOW) offers direct services to Cape Cod women battling chronic and life-threatening illness and disabling conditions.
It's hard to believe, but the above is only a sampling of the many ways Ann has helped her community and the world over her decades of service. The full story of Ann's extraordinary legacy can be viewed in the documentary Ann Maguire: An American Hero, which premiered in Provincetown in fall of 2016.