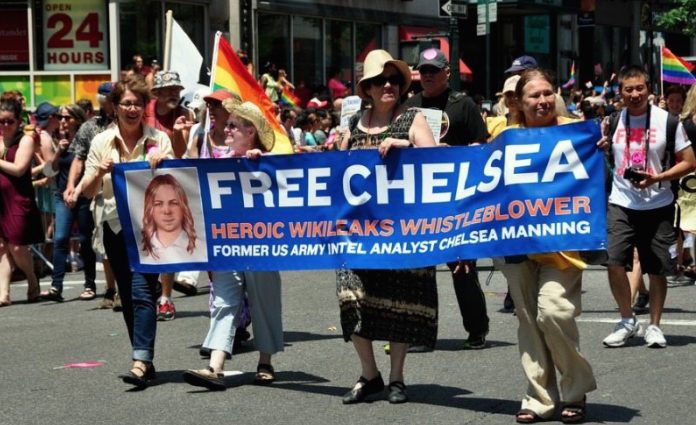 It's not exactly Caitlyn Jenner this time. Transgender awareness has taken the spotlight on the national stage once again, not in a Jenner-style glossy fashion shoot for Vanity Fair but from federal prison and the Oval Office.
Yesterday, President Obama commuted a 35-year prison sentence to roughly 7 years served for Chelsea Manning.
With unfortunate predictability, the decision has unleashed a landslide of transphobic slurs and even death threats from the right wing media. However, say what you will about Manning's Wikileak whistle-blowing, more credible news sources are treating the story with the objectivity and sensitivity that all news coverage deserves.
"Manning, the Army intelligence analyst convicted of a 2010 leak that revealed American military and diplomatic activities across the world, disrupted Mr. Obama's administration and brought global prominence to WikiLeaks, the recipient of those disclosures," described the New York Times in a January 17 story.
Reports the Times:
The decision by Mr. Obama rescued Ms. Manning, who twice tried to kill herself last year, from an uncertain future as a transgender woman incarcerated at the men's military prison at Fort Leavenworth, Kan. She has been jailed for nearly seven years, and her 35-year sentence was by far the longest punishment ever imposed in the United States for a leak conviction.
According to a January 17 NBC report:
The Manning commutation, which will undoubtedly be controversial, was not a complete surprise.
NBC News reported last week that she was on the president's short list. And at a briefing last week, White House spokesman Josh Earnest said that Manning's actions were not as "dangerous" as those of fugitive leaker Edward Snowden. Earnest also noted that Manning had answered for her actions in court, and admitted wrongdoing.
More than 117,000 people signed a petition asking the White House to consider the commutation. Snowden, whose supporters had petitioned for clemency, tweeted that if Obama could only free one person, it should be Manning.
The petition, posted to the web for signing on November 14, 2016, reads as follows:
Chelsea Manning has been incarcerated since May 2010, including in unlawful, unusually harsh solitary confinement for 11 months before her trial. She has spent the past six years helping others.
Chelsea has already served more time in prison than any individual in United States history who disclosed information in the public interest. Her disclosures harmed no one.
President Obama, as you and the medical community have recognized, prisoners who face solitary confinement are more likely to commit suicide.
Chelsea is a woman in a men's facility facing ongoing mistreatment. She has attempted suicide and has been punished with additional time in solitary confinement for her desperation. Her life is at risk and you can save her.