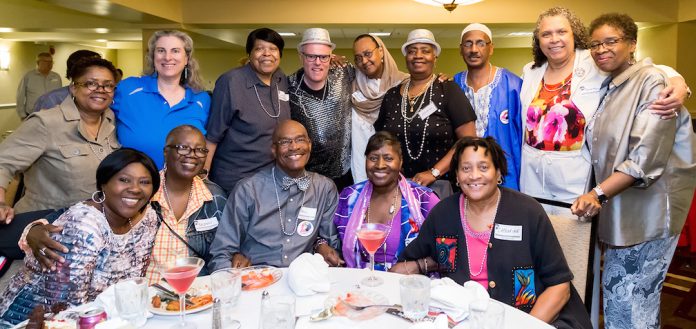 [This story appears in the January|February 2017 issue of Boston Spirit magazine. Subscribe for free today.]
In the early 1980s, Shirley Royster, an African American lesbian, knew something was wrong. She saw people in the black community dying at an alarming rate. For six years, Royster had been a drug addict and even lived on the streets for part of that time. In those circles, entire groups of friends, who all shared needles, would just disappear. There were no special names like "GRID" or "gay cancer" for what was happening in Shirley's community. And there certainly was no treatment.
AIDS did not discriminate, and eventually people started to realize that.
In 1986 Royster, at the age of 39, found herself in her doctor's office to get the results from her HIV test. Her doctor, a physician she had seen for years, told Royster that she'd tested positive for the virus. As Royster tried to let the news sink in, she asked the doctor what she needed to do now. The doctor replied that she needed to leave her office and not come back because there was nothing more that could be done for her. Royster pleaded for advice. "Get your affairs in order," her doctor told her and closed the door on Royster for the last time.
By this time, Royster was already in recovery from her addiction. She had two young children and her own apartment. Her next chapter of life was spent desperately trying to get information about her condition and a possible treatment. What little resources were available were dedicated to gay white men who could afford the new treatments that were being tested. No one knew what to do with a black HIV-positive woman.. She was turned away again and again by many of the leading hospitals and clinics in Boston. There were no treatments or even support groups available to her.
Prior to her diagnosis, Royster had started a lesbian mothers group in Dorchester. With a heavy heart, she asked the women in the group if they would raise her two children when she died. The women agreed. Through sheer perseverance, Royster finally found an HIV/AIDS support group in Neponset. Here, she met Jim Campbell, a man who would change her life. Royster was impressed by the stories Campbell told about fighting for his rights as a gay white man living with AIDS. The two became friends and Campbell began to teach Royster about being an advocate.
By the early '90s, there were more black people with the disease who started showing up at hospitals, clinics, and the AIDS Action Committee. Right off the bat, Royster recognized friction developing at the AAC because the all-white frontline staff didn't have the experience to work with their increasingly black clientele. Campbell pushed Royster to apply for a spot on the AAC consumer advisory board so people of color could have a voice in the fight against AIDS. Shirley became that voice.
What sustained Royster during those difficult years fighting HIV/AIDS not only in her own life but also in her community as well? "My partner and my faith," Royster said with a smile.
Royster's partner of 31 years, Catherine Joseph, has been with Royster ever since her diagnosis. Joseph had her back and pushed her to go public about who Royster was and the disease she was living with. This was a big step. At the time, you could not talk openly about living with HIV if you lived in public housing because you risked eviction. There was very little education about the disease in the black community and the stigma of the disease also tarnished children. Mothers would not let their kids play with children of an infected parent. Royster recalls black people with HIV fed on paper plates at family gatherings—if families invited them at all.
Royster joined Positive Directions, a group that brought people living with AIDS into the Boston Public Schools to tell their stories and educate children. Royster still keeps a box full of letters that children from all over Boston wrote to her, thanking her for her courage to share her story.
Faith also played a critical role in Royster's fight with HIV/AIDS. From her diagnosis in 1986, she prayed that she would live to see her children finish high school—not only to enjoy a proud moment, but also to lessen any burden on her friends who had promised to raise her children. Indeed Royster saw both of her children graduate.
In 1991, Royster became very sick and began to take the complex drug cocktails available at the time. She then prayed to live to 50. By then, she felt, she would have accomplished all the things she wanted to do in this life.
Royster's prayers were answered again. As her health improved with the new Protease Inhibitors, she began to think that AIDS might not be a death sentence for her after all. Still, she believed, every day was a gift and she needed to do something good with it. Her activism took on a new meaning. Instead of limiting her activism to schools and community groups, she accepted the invitation to join others at the state and national level in the fight for funding support for people living with HIV/AIDS. Royster joined the Ryan White Planning Council and started traveling to Washington, D.C. to lobby. She even traveled to South Africa to speak at the International AIDS Conference.
Meanwhile, Campbell began to focus on HIV and aging. He was famous for saying, "Once we realized the pills were going to work, we knew aging was coming down the pike." Aware of the under-examined and complex relationship between HIV and aging, he would go on to become the founder and president of The New England Association of HIV Over Fifty, an organization that brought together researchers, policymakers, doctors, and consumers to examine the complex issue. Royster was at his side as they continued to advocate and educate in Massachusetts and in Washington on behalf of older adults living with HIV.
In 2015, after 30 years of dedicated service in the fight around HIV/AIDS, Campbell passed away due to complications from HIV. Today, Royster continues her advocacy and activism for people of color and older adults living with HIV. At its 2016, Silver Party Dinner, the LGBT Senior Pride Coalition posthumously honored Campbell, a founding member of the coalition, with an award in his name. This award will be given annually to an outstanding person in the community who takes on the qualities of activism, community service and Campbell's passion for working with LGBT older adults.
The first recipient of the Jim Campbell Award was Shirley Royster.
Bob Linscott is assistant director of The Fenway Institute's LGBT Aging Project.