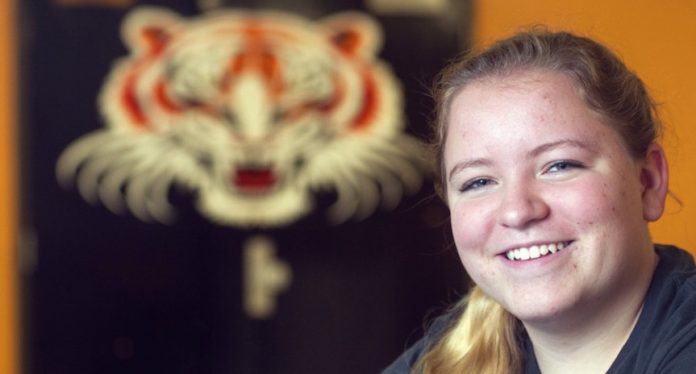 Savannah Green, a 16-year-old junior at Gardiner Area High School in Maine, is one of four students nationwide to receive the GLSEN's Student Advocate of the Year Award.
The award "honors an outstanding young person who has helped create a safe and affirming learning environment for all students and has served as a voice of change in their school and community," according to a GLSEN press release.
"Green's advocacy work at the school and in Maine focuses on health education, and she's working to make the state's curriculum more inclusive. Green has met with her principal, Chad Kempton, and the School Administrative District 11 superintendent and curriculum coordinator to see how health and sexual education can be improved," reports the Kennebec Journal on October 23, which goes on to say:
"She presented herself very well," Kempton said. "We've adjusted our curriculum to make it more applicable to a variety of situations." Kempton said that Green will participate and assist health teacher Doug Driscoll during the sexuality unit.
Being recognized by a national organization is a great honor, said Gia Drew, program director for EqualityMaine [where Green performed community service over the summer].
"For a national organization to recognize the achievements and efforts of a student in a small town in Maine is pretty wonderful," Drew said. "It shows that one person can have a say in the world."
Drew worked with Green this summer when Green participated in EqualityMaine's New Leaders project, which attempts to give students skills to bring back to their community.
From the beginning of the six-week program, Drew said, Green was really eager to learn about all the ways she can make a difference in her community, and she really paid attention to all the speakers and guests.
One of things Green wants is to help educate not only students but also teachers and other adults. Green said she had a friend from another school that was called a derogatory name in front of a teacher, who the friend said did nothing.
"I'm hoping to change that," Green said. "There are staff trainings that need to be done so that teachers know what to do in that situation."
Sharing this year's student advocacy award with Green are: Relle Goan, a senior at Rancho Buena Vista High School, Vista, California; Amos Koffa, a senior at Burlington County Institute of Technology, Medford, New Jersey; and Evie Priestman, a senior at Wakefield High School in Arlington, Virginia.