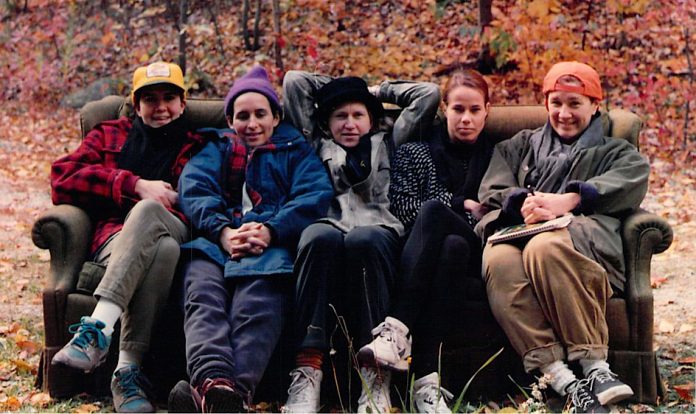 (Editor's note: This article appears in the current March/April 2016 print edition of Boston Spirit magazine. Subscribe for free today.)
Over its more than 25 years of presenting bold theater and nurturing queer performers, The Theater Offensive (TTO) of Boston has earned praise and loyal support from audiences and the LGBT community.
It also built a family.
One of those family members is Lisa Kron, playwright and Tony-winning lyricist of the acclaimed Broadway musical "Fun Home." Kron for many years was part of the acting troupe The Five Lesbian Brothers, who were among the many queer artists and activists that regularly appeared with The Theater Offensive.
Now Kron and her Brothers—Maureen Angelos, Babs Davy, Dominique Dibbell and Peg Healey—will be honored with the OUT On The Edge Award at TTO's signature event, ClimACTS!, a fundraiser that's equal parts lavish celebration and immersive performance. "ClimACTS! Underground" takes place April 28 from 6 to 11 p.m. at Stage Nightclub, 19 Boylston Place, Boston. (For tickets and details, check out the event's webpage.)
For TTO founding Artistic Director Abe Rybeck, seeing "Fun Home" was not only a visceral, moving theatrical experience but Kron's success—on her own terms—feels personal.
"It was very powerful, as a grassroots queer theater artist and activist, to watch the Tonys and hear the name of someone who's part of our Theater Offensive gang," he says. "Lisa stays in touch with the importance of grassroots work; it's what she's done for decades."
Rybeck adds that The Five Lesbian Brothers were part of the first shows at TTO in the early 1990s after the troupe earned a reputation for cutting-edge performances at the Obie award-winning WOW Cafe Theatre in New York City. The Brothers performed their original plays including "Voyage to Lesbos," "Brave Smiles," "Brides of the Moon" and "Oedipus at Palm Springs," the show they developed with TTO in 2005 before taking it on the road.
"What's always been true of both the Brothers' work and 'Fun Home,' in terms of queer theater, is that they're not asking for permission; they're just out there with the reality of people being queer. And the core of Theater Offensive's work is to inspire outness—that was crystal clear in 'Fun Home,'" says Rybeck.
The Five Lesbian Brothers won't be doing any formal performance at ClimACTS, but Rybeck says queer activist theater is alive and well whenever and wherever the troupe shows up.
"I've never been in the same room with the Five Lesbian Brothers and not felt it wasn't a performance in the best sense," he says. "Just hanging with them is art."
Another member of the TTO family who'll be participating in ClimACTS Underground is Miami-born Cuban-American dance theater artist Octavio Campos. He will direct an ensemble of dancers and performers at the fundraiser. Rybeck first met Campos on a Miami dance floor 10 years ago, he says, and they quickly connected. A former member of the famed German dancer and choreographer Pina Bausch's company, Campos was intrigued by TTO's "A Street Theater Named Desire"—performances that provided safer sex education in Boston's gay cruising areas—and visited Boston to participate. "He has a passion for community-based work. I knew he was someone special," says Rybeck. "He's been a great fit with Theater Offensive because he's outrageous and provocative in a way that invites people in."
Campos designed last year's ClimACTS! fundraiser, "Wet," which was a smashing success. "It was powerful, beautiful and insanely sexy," says Rybeck, who promises another one-of-a-kind celebration this year. ClimACTS! Underground co-chairs Ricardo Rodriguez and Suhail Kwatra have put together a design team that includes Campos, photographer Joel Benjamin ("He's created beautiful imagery that combines glamour and grit," says Rybeck) and Rodriquez who came up with the "underground look" for the event and who is styling the models.
This year's ClimACTS! will again feature an auction of unique items and services donated by local businesses and individuals. Last year, the auction offered a walk-on role on the award-winning series "Transparent" with the 2015 honoree Alexandra Billings, who appears on that show. Rybeck notes that fans of "Fun Home" will want to check out a package that is sure to drawn plenty of bidders.
Like all of TTO's work including the youth-based True Colors, ClimACTS! is an environment that welcomes and celebrates diversity in sexual orientation, gender identity and gender expression. Rybeck says the atmosphere at ClimACTS! will be electrifying and edgy, which is TTO's trademark.
"I didn't get into this to be part of the status quo," says Rybeck. "If you're in the mood for shaking things up, ClimACTS a party unlike any other in town."