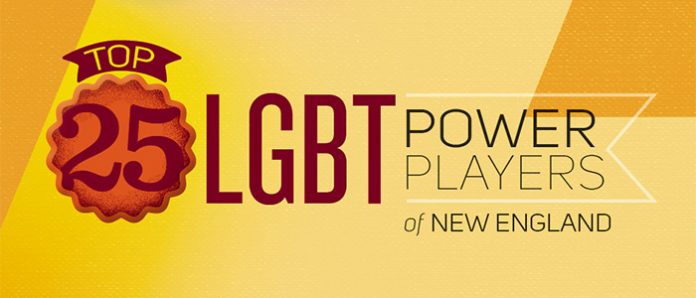 Welcome to Boston Spirit's list of the 25 most Powerful Players in the New England LGBT community.
How did we choose them?
Some names were no brainers—Mary Bonauto, Maura Healey, David Cicilline, Stan Rosenberg.
And then there were others, like, for instance, Mason Dunn, Executive Director of the Massachusetts Transgender Political Coalition. Should he be on it? Perhaps, but he hasn't been around long enough for us to know, especially with other notable names.
If we had an honorable mentions list, he'd be on it with a number of others like: Marianne Duddy-Burke, Executive Director of Dignity National; Grace Sterling Stowell, Executive Director of BAGLY; Kevin Dumas, Mayor of Attleboro; Paul Daigneault, Executive Director of SpeakEasy, who has produced top-tier theater in New England that addresses LGBT issues for years; Sylvain Bruni of Boston Pride; and more.
There will be those who disagree with the final names and will have good reasons. We welcome the dialogue. (And, FYI, you'll notice they are in alphabetical order with no internal ranking.)
In the end, it is less important who is on the list than that the list generate constructive conversations in our community about where power resides and how it is used.
So, here's our take on LGBTs of power in New England.
Discuss!
Photos from the Boston Spirit Top 25 Power Players Gala are viewable here.
Ronald Ansin, John Basile, Allison Bechdel, Mary Bonauto, Dr. Stephen Boswell, Ray Buckley, Steve Buckley, Elyse Cherry, Wendell Chestnut, David Cicilline, Jay Crutchley, Catherine D'Amato, Tiffani Faison, Esmond Harmsworth, Chris Harris, Maura Healey, Joanne Herman, Barabara Lenk, Matthew V.P. McTygue, Irene Monroe, Alex Morse, Sue O'Connell, Bryan Rafanelli, Stan Rosenberg, Pedro Segarra
Ronald Ansin
Philanthropist
Ronald Ansin doesn't really think of himself as having that much power. But, then again, most philanthropists worth their salt never do.
"I am not a board member of any LGBT organization nor an elected official, nor [generally] a major financial contributor. I am an enthusiastic supporter, and advisor when asked, and a donor when I can to a wide range of LGBT organizations. I suspect that what power I have results from the perceived wisdom of old age," says Ansin. "I don't think my type of power requires any 'specific responsibilities.' I do, however, feel responsibility to do what I can to help our community, not because I owe it, but because I believe deeply in equality for all."
Ansin previously amassed a fortune operating the shoe-manufacturing companies Anwalt Corp. of Fitchburg and L.B. Evans' Son Co. In the public realm he also served as the state commissioner of Commerce and Development, sat on the State Job Training Coordinating Council and served as the footwear-industry adviser to the White House. And, in terms of his civic activities, the list includes dozens of bullet points including work with the ACLU of Massachusetts; Fenway Health (consider that his name adorns the organization's headquarters, the Ansin Building, which is "the largest facility ever constructed by an organization with a specific mission to serve the LGBT community," according to Fenway Health's web site.), and collaboration with Dr. Jerry Groopman to establish the Mapplethorpe Laboratory for AIDS research at Beth Israel Deaconess Medical Center, now the Laboratory for Experimental Medicine.
"We have accomplished so much, but we cannot rest while any of our brethren are denied rights afforded by the United States Constitution's Bill of Rights or the Constitutions of the six New England states. In addition, we must educate people of all ages, redouble our efforts to support candidates for public office who are gay, lesbian or supportive of our issues, and to fight those who would undermine our victories in the name of religion," says Ansin. "Today, we in New England have the opportunity to show the way to full equality for the LGBT community throughout our country and indeed the world. This is our opportunity. This is our challenge."