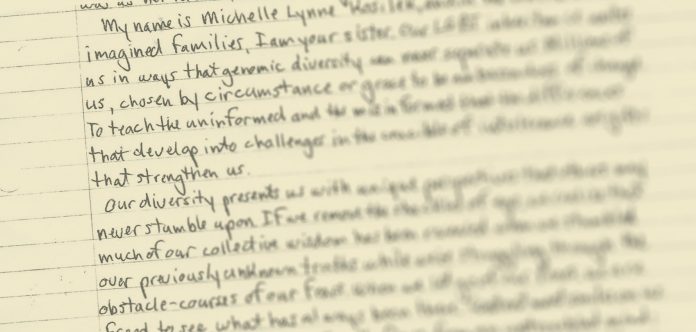 Read our interview with Michelle Kosilek here.
1/22/14
Dear LGBT Family,
When David Zimmerman graciously offered to let me write an open letter to accompany the article about our legal battle, it seemed like the concept of re-imagined families would be the strongest thread to weave my thoughts together. It was a few weeks after Christmas,
and I had received the best present ever—my daughter Amy called me mom for the first time! The last time I held her in my arms in 1974 was as her father, surrendering her to the painful safety of adoption.
My name is Michelle Lynne Kosilek, and in the context of re-imagined families, I am your sister. Our LGBT inheritance unites us in ways that genomic diversity can never separate us. Millions of us, chosen by circumstance or grace to be ambassadors of change. To teach the uninformed and the misinformed that the differences that develop into challenges in the crucible of intolerance are gifts that strengthen us.
Our diversity presents us with unique perspectives that others may never stumble upon. If we remove the shackles of ego, we realize that much of our collective wisdom has been revealed when we stumbled over previously unknown truths while we're struggling through the obstacle-courses of our fears. When we let go of our fears, we are freed to see what has always been there. Contentment smiles on us.
Not the elusive joy that allegedly flows from an untroubled mind; in times when so many need so much, all minds should be a little troubled. A slight unease that blocks complacency.
Rejected by my family of origin as many of you were, I took every wrong turn on the way back home. When I got sober in 1983, I was desperately lonely. I married my therapist; six years later I took her life during a fight. I will try to atone for that as long as I live, and still fall short. "Closure" is a pop-psychology term that allows people to begin grieving; it doesn't close any wounds, and I won't pretend to understand anyone else's pain. But if any of you want to know the woman behind the headlines; if you believe that everyone deserves the right to seek redemption, I invite you to read my memoir Grace's Daughter. It's an inexpensive e-book available from Amazon.com. For those who can't afford the $2.99, it's available free from the publisher, Smashwords.com, using coupon code QL88Q. No proof of indigency required; poverty is an onerous burden that I won't add to.
It was in prison that I re-imagined the concept of family, through our legal battle and the love of several women who saw something redeemable in me. My peerless partner Jessica, my sister-from-another-mother Cindy, my mother-bear lawyer Franny; all played a unique role, inviting me back into the world of the loveable. (Cindy's niece Dianna, gifted me with "auntie" status.) Their love taught me that even the most reviled among us cannot be stripped of their humanity. They also taught me to let go of my anger at myself and, more importantly, at my detractors. Our detractors, because my prisoner status has been conflated with my gender dysphoria to magnify an already-existing intolerance of transgender people.
This is not about me. It's about the inherent dignity of all human beings, but especially about the 600 (that I know of) transgender women and the untold thousands of lesbians and gay men currently in prison. Many will eventually be released, bearing emotional and physical scars from extra-judicial punishments.
Transgender women will leave with shattered faith and shaved heads like Shelly, because Kentucky does that to all who are placed in segregation, even if it's for protective custody. Rebekah left the Oregon prison, but only after she almost died from MRSA when she self-castrated after years of being denied hormones. They were the lucky ones. Many LGBT prisoners end their own life as a way of ending their suffering. Whether it's from loss of hope or the degradation of being a sex-slave, these self-imposed death sentences are a preventable family tragedy.
Our family. Our tragedy.
In many instances our sisters and brothers took all the wrong roads that I did, often because their families of origin disowned them. In urban areas, 40% of homeless people under the age of 25 are LGBT. Many are just one more despair-filled lonely day away from the mis-steps that lead to prison. I ask you now to re-imagine the concept of family, to include those who are even more marginalized within our already-marginalized family. Get involved in mentoring, in volunteerism.
Rosie's Place would be a good starting point, as would the Community Church of Boston on Boylston Street. If the vacant stares in the eyes of vagabonds begging on street corners fills you with a sense of unease, think of the young people who now stand on other corners. Waiting to sell themselves to strangers, their need for dignity subsumed by their isolation and hunger. They've begun to believe that they are unlovable, the first step towards becoming as silent as their shadows. Defined only by the vagaries of the light.
Dear family, we need to be that light. If we don't, our legacy will be another generation of LGBT children—our children—who fall prey to a familiar darkness when the light of familial concern could have revealed a safer path. Prostitution and drugs are the most common gateway to prison for young LGBT people. Knowing this, silence is a luxury that none of us can afford. Knowing that every lost family member will end up in a place where the simple joy of holding hands is forbidden. Shouldn't the rest of us embrace the concept of our re-imagined family as fiercely as we embrace our lovers at the end of each painful parting?
Be Well Stay Safe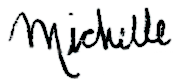 Michelle Lynne Kosilek