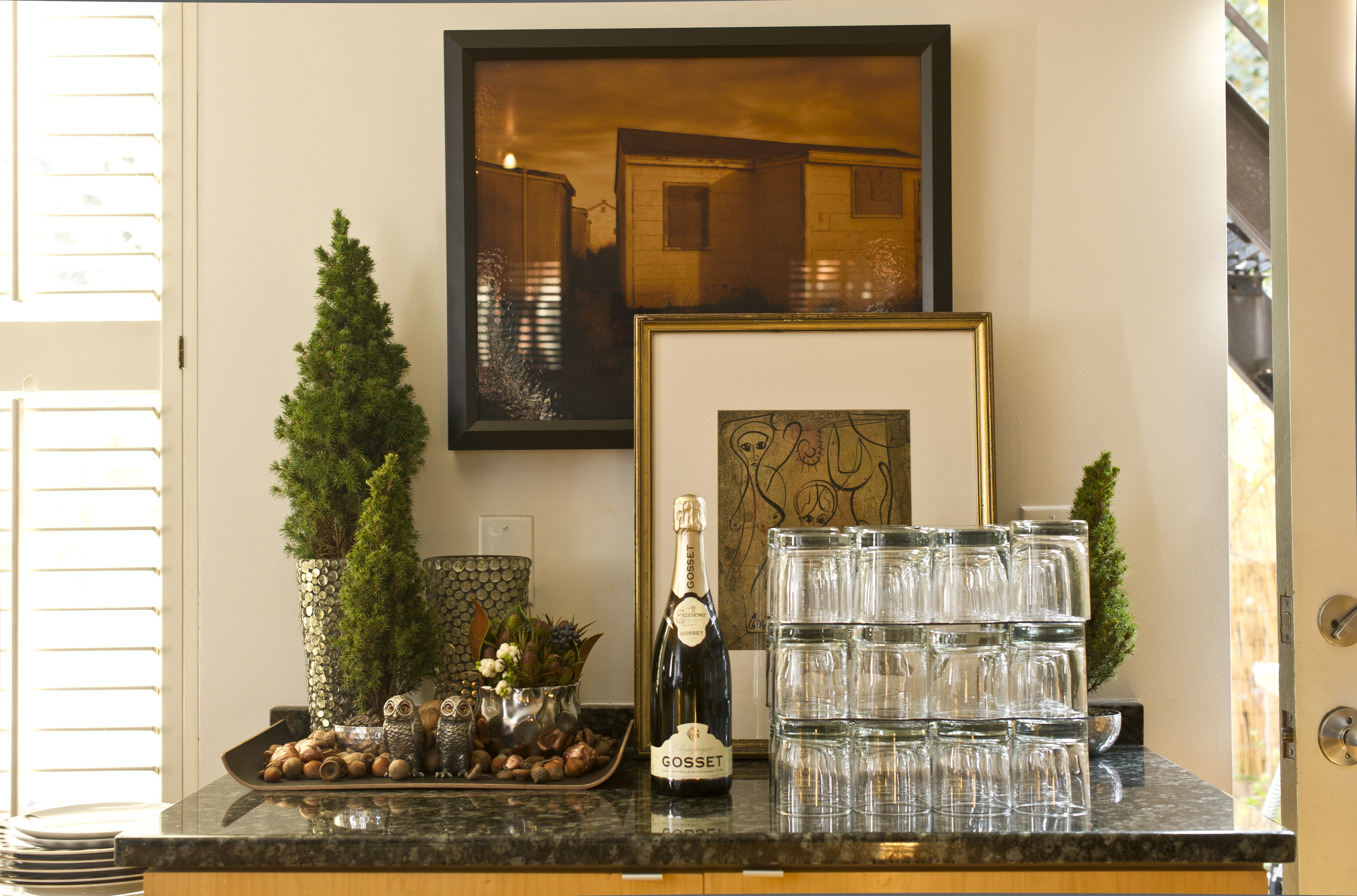 Boston Spirit's 'Ricardo Recommends' columnist Ricardo Rodriguez along with Bryan Rafanelli and Ken Oringer demonstrate the art of entertaining in style
 Entertaining at home has to be one of the most stressful things for me. Just ask my husband Michael. All the worrying about the food, the drinks, the guest list, and the perfect ambience. Believe me, I love to put together a party but only once in awhile. Now, add the holidays to the list and then we are talking about quite the undertaking.
So for this holiday season, I recruited the help of two amazing friends and asked them to show us how the pros do it.
My dynamic duo is none other than internationally acclaimed and award-winning chef Ken Oringer (Clio, Uni, Toro, Coppa, La Verdad, KO Prime, Earth) and the real deal in party planning, the über-extraordinarily amazing Bryan Rafanelli (The party designer to the stars, including Chelsea Clinton's wedding, White House state dinners, and more).
Believe me when I say I paid these two in alcohol! To get the two of them together is quite the lucky extravagance, so I made sure to get as many helpful tips and how-to's. I hope you enjoy them as much as I do. Felices Fiestas!
Creating the perfect ambience with Bryan Rafanelli
Don't be afraid to give your party a theme. It doesn't have to be literally 'holiday.' Make it personal and give it a twist with choices that reflect who you are. In this case Bryan created a very urban and masculine ambience by incorporating industrial elements into the decor.
He mixed outdoor holiday standards like acorns (spray painted copper), garland and topiaries with industrial touches — like bolts for place cards and pipes for candleholders — and added a bit more whimsy by introducing unexpected decor touches, such as mushroom shakers, antlers and metallic owls.
Make sure the bar is ready — Good drinks and a good bar set-up are paramount to a good party. Make a statement by creating a glass tier (using glassware with a wide base/rim so it remains sturdy). Top it all off with fun tactile details like a special wine opener and stopper or fun drink straws.
Offer a party gift — Who doesn't love taking something home? The same topiaries used for the table decor make perfect guest gifts. A nice touch.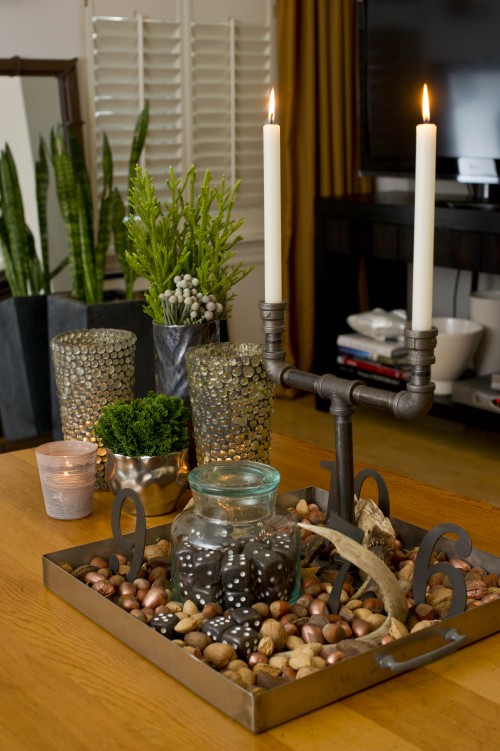 — You can create beautiful place cards using nuts and bolts. Apply an antique spray to give it a warmer feeling and use letter stickers to spell the names. Have fun with it, use your guests full names or even nicknames. 
Be playful — It is the holidays after all, so plan some games that allow your guests to interact with the decor and with each other. Numbered plates and dice are the perfect combination:
Each guest rolls dice to indicates where they will be seated.
Use the numbers on the plates as the order in which each guest will give a toast.
Roll the dice and describe the person across from you in that many words.
Where did Bryan find things?
Floral – winstonflowers.com
Chargers, Flatware, Glassware – beourguestpartyrental.com
Custom Straws & Coasters on Bar – chereeberry.com
Trays, Antlers, Owls, Bottle Opener, Wine Stoppers, Dice – hudson-boston.com
Pipe Candelabras and Wooden Tree (in foyer) – jemhome.com
Letter Stickers – paper-source.com
Brian Rafanelli
Cooking up a storm with Ken Oringer
Ostrica con ProseccoWhat better gift to give your friends than a beautiful meal. Create a menu that not only is delicious but is also simple to execute. This means preparing as much as possible prior to your guests' arrival. You don't want to spend the entire night in the kitchen.
Find ingredients and flavors that are seasonal and exciting but at the same time familiar, making sure to give each dish your own touch. After all, this is your night to shine.
Ken made sure that the portion sizes were perfect. You want your guests to eat enough but not too much. You don't want the party to end too early.
Ken Oringer
Ostrica con Prosecco
Serves 8 ppl
For the Oysters
24ea Island Creek Oysters
1cup Prosecco
1cup Champagne Vinegar
1cup Grape Seed Oil
4oz Broken Fresh Cranberries
Sea Salt to taste
Shuck Oyster and place in a bowl over ice. Save the shells. Allow the oysters to sit for 20 minutes. Lift the oysters out, strain the oyster liquid over the oyster. Repeat three times to clean any dirt or shell pieces. Place into a 4 quart plastic container.
In a small sauce pot add vinegar, prosecco, and grape seed oil. Bring to a simmer. Add the broken cranberries, and remove from the heat. Allow the liquid to steep with the cranberries for 10 minutes. Let cool overnight. Store in the liquid
For the cranberry verjus
500ml White verjus
500g Fresh Cranberries
Muddle the cranberries with 1⁄4 of the verjus. Pour into a mason jar, add remaining verjus. Put the top on, shake and let sit in a cool place for three days. The verjus can stay refrigerated for up to 1 month.
Garnish
Whole radishes
Sliced chives
Grated Fresh Apple
Pickled Mustard seed
Fleur de Sel
To Plate
Either use wet salt or ice on the plates to hold the shells. Place 3 shells per person on a plate. Put one oyster in each shell. Put a small amount of the cranberry verjus in with the oyster. Top with some grated apple, chive, pickled mustard seed, and sea salt. Garnish the plate with the radishes.
Braised Beef Short Rib
Serves 8 ppl
2lbs Boneless Beef Short Rib Meat cut into 4 oz portions
8oz Butter
1ea White Onions Julienne
1ea Small carrot, peeled and cut 1/4 inch dice
2ea Celery Ribs, cut 1/4 inch dice
2ea Garlic Cloves crushed
2ea Roma Tomatoes Diced
Sachet of
1ea Bay Leaf
2oz Thyme, fresh not picked from stem
2ea Crystallized Ginger Slices, available in Asian grocery stores
1ea Lemongrass Stalk
1oz Fennel Seed Whole
1oz Coriander Seed Whole
750ml Red Wine, Beaujolais or something fruity.
1gal Veal Stock, Beef Stock or Chicken Stock.
Sear the beef ribs in a large pot. Sear on all sides. Remove beef, and discard the grease. Add the butter, onions, and garlic. Cook until Tender. Add the celery, carrot, and sachet of spices. Cook until vegetables are tender. Add the tomatoes, and cook until they start to dry. Add Beef back to the pan, on top of the vegetables and sachet. Add the red wine and cook until reduces by 1/2. Add the Stock and bring to the simmer. Place the pot in a pre heated 300 oven. Cook for 2-3 hours until tender Allow to cool in the liquid, and sit in the refrigerator overnight.
To serve
Warm the braise, remove the beef, strain the liquid into a pot. Discard the sachet and vegetables. Bring the liquid to the boil, cook at a gentle simmer until reduced to 4 cups. Pour over the beef ribs, in a large pan. Baste the ribs to warm them.
Cocktail: "Manzana"
8oz Maker's Mark®
8oz Apple Cider
8oz Amontillado Sherry
4oz Lemon Juice
16oz Apfelstruder Liquor
Mix all ingredients in a cocktail shaker with ice. Shake until chilled, strain into a cocktail glass. Garnish with a thin apple slice. Serves 8 drinks.
Gift Giving
Bobby Kelley — man about town and my husband's amazing brother.
"Coasters from Jonathan Adler. I am not implying that you guys drink too much. I just think they are fun and very useful. They have all sorts of styles but I love the zodiac sign set."
Jay Gordon — creative genius and owner of Bodega
"A letter opener. Considering how much more mail we tend to get during the holidays, this is the perfect gift. And it is such an old-school gift, I think it is very cool and different."
Stuart Roseman — internet wizard and founder of SaneBox.com
"For selfish reasons, a bottle of Macallan 15 year scotch. In all seriousness, wine and champagne are great but a glass of scotch is the perfect way to finish any holiday party. It is a very luxurious gift."
Daniela Corte — sexy mama and amazing fashion designer
"Fornasetti Profumi has the most delicious candles. Not only are they exquisite, but their packaging is absolutely stunning. After the candle has burnt you can use the container for other purposes. The gift that keeps giving!"
Bryan Rafanelli — the man who needs no introduction
"These etched glasses are an easy and personalized gift that any host will love. In this instance (and continuing with the nuts/bolts/numbers theme of the evening), the numbers represent the hosts' street address."
Lev Glazman — jet-setting mogul and founder of Fresh cosmetics
"Beauty products, of course! Who doesn't love getting some amazing bath and body gifts. I am partial to the Brown Sugar Body Polish. Your host will never think of buying something like this, so it makes it extra special."