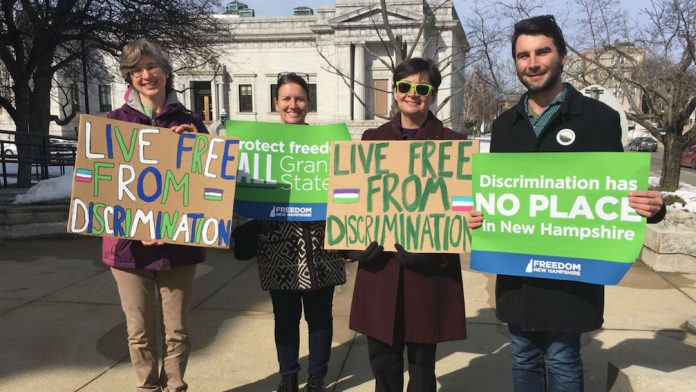 The New Hampshire House of Representatives approved a bill to ban conversion therapy in the state on February 8. After voting it down only a month ago by a single vote, the bill passed this time by a narrow margin — 179 to 171. So it can now move along to the Senate.
"Conversion therapy is a harmful and damaging practice which attempts to shame young people into changing their sexual orientation or identity," Rep. Ed Butler, a Democrat from Hart's Location, said in a statement following the vote.
Opponents say the bill goes too far and limits counselors and teachers from helping young people with "temporary same-sex crushes," according to a February 8 report in the Portland News Herald. "Quietly lurking in the bill is prohibition against gentle client-affirming talk therapy," said Rep. Mark Pearson, a Republican from Hampstead. Butler told the paper the bill does not in fact restrict such counseling, but such misinformation continues to circulate.
The Human Rights Campaign praised the House vote to move the bill forward:
"We thank the state legislators who took a ​bold ​stand to protect LGBTQ youth from ​so-called 'conversion therapy,​'​" said HRC Legislative Counsel Xavier Persad in a statement. "This ​abusive and ​inhumane practice has no basis in science and is ​uniformly rejected by every major mental health ​organization in the country. ​Children across the Granite State deserve to live their lives authentically​, and they deserve to know that they are not broken or ill because of who they are. We are calling on the Senate to swiftly pass this bill and send it to Governor Chris Sununu's desk for his signature."