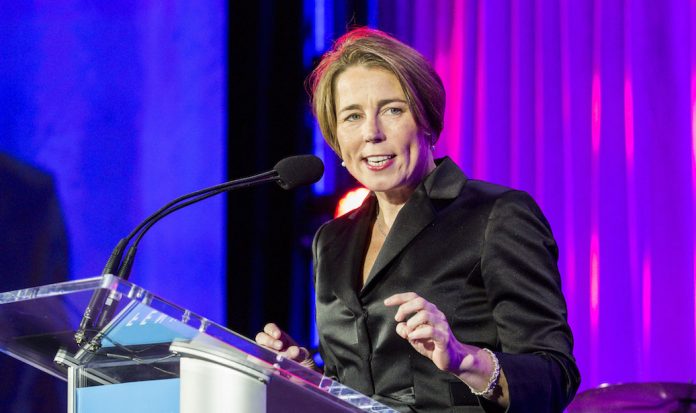 Kicking off their work in this midterm election year, LPAC — the national lesbian political organization and pro-LGBT political action committee — is holding its first fundraiser 0f 2018 in Boston's South End on Thursday evening, February 15.
Special guests will be Massachusetts Attorney General Maura Healey and humorist Kate Clinton.
"This is a critical year for LGBTQ people, women, people of color and all progressives, and we hope the Boston community joins us to learn how we can support progressive candidates and advance positive policy outcomes," said Diane Felicio, a Boston based member of LPAC's national board.
"LPAC is excited to bring our message and work to Boston," said Interim Executive Director Urvashi Vaid. "And we are thrilled to have the Attorney General join us."
Vaid earned her law degree from Northeastern University School of Law in 1983, served on the founding board of the Boston Lesbian/Gay Political Alliance and was part of the collective that formed Gay Community News, a weekly newspaper that had national impact when it was published from 1973 to 1992.
Along with Vaid, event hosts include Naomi Aberly, Susan Bernstein, Steven Cadwell & Joe Levine, Elyse Cherry, Mass. State Senator Julian Cyr, Diane Felicio, David Goldman, Julie Goodridge, Catherine Guthrie & Mary Gray, Caitlin Healey, Tom Huth, Lyne Kappelman & Kate Perrelli, Ruth Lewis, Neal Minahan, Bette Warner & Patty Larkin, Shari Weiner, Julie Smith and Polly Franchot.
To attend the event RSVP is required by emailing cathy@targetcue.com for media credentialing or teamlpac.com/boston-party to donate.
In the meantime, check out LPAC's recently released first set of endorsements for 2018, this critical midterm election year.
For more information go to www.teamlpac.com.