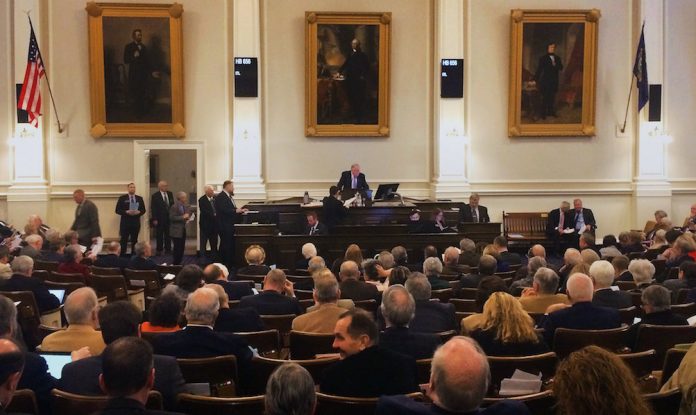 In a 166–165 vote, the New Hampshire House of Representatives struck down a bill on January 10 that would have prohibited counselors from proposing or performing treatments aimed at changing the sexual orientation or gender identity of young people in that state.
House Speaker Gene Chandler, a Republican, delivered the tie-breaking vote. A separate version of the proposal from the state's Senate was also defeated 170–169, also by Speaker Chandler's thumbs down.
Jennifer Horn and Doug Palardy, co-chairs of the state's Log Cabin Republicans chapter, voiced their disappointment in a statement, which said, "The American Psychological Association, the American Psychiatric Association and the American Medical Association have all denounced reparative, or conversion, therapy as ineffective and potentially harmful. The most constructive and effective thing we can do for young people who are struggling with their sexual identity or coming out as gay, is to be as loving and accepting as possible."
According to The New York Times:
Opponents said the bill could have prevented minors from discussing "unwanted" same-sex attraction with a qualified counselor.
"Now, I would be against coercive therapy, but what about those who want help from a professional?" Representative Mark Pearson, a Republican, said while addressing lawmakers on Tuesday ahead of the vote. …
Supporters of the ban said conversion therapy is a dangerous practice that needs to be stopped.
State Senator Martha Fuller Clark, a Democrat, introduced the Senate bill in February, after a similar bill failed to pass the Legislature in 2016.
"As a mother of a child who is gay, I want all children to be able to grow up without being told that they should not be who they are," she said in a statement last year. "New Hampshire families have the right to expect that a licensed therapist will not put their children at risk of harm."
The Times also noted that:
At least nine states — Nevada, Connecticut, California, New Jersey, New Mexico, Vermont, Rhode Island, Oregon and Illinois — have taken steps to prevent mental health professionals from trying to change a minor's sexual orientation, according to the National Center for Lesbian Rights and others who track legislation.
Other states, however, have struggled to pass similar laws. Last year, a Colorado Senate committee killed a bill that would have banned conversion therapy for minors, the third year in a row it had done so. … Similar bills also failed to advance in Maryland and Virginia.
The treatment promotes feelings of inadequacy and self-hate, Clinton W. Anderson, director of the sexual orientation and gender diversity office at the American Psychological Association, said in a phone interview. Even if someone agrees to behave differently, he added, it doesn't change who they inherently are.
"People have a lot of control over their behavior," Dr. Anderson said. "But that doesn't mean that their underlying deeply seated pattern of what we would call sexual orientation has changed."