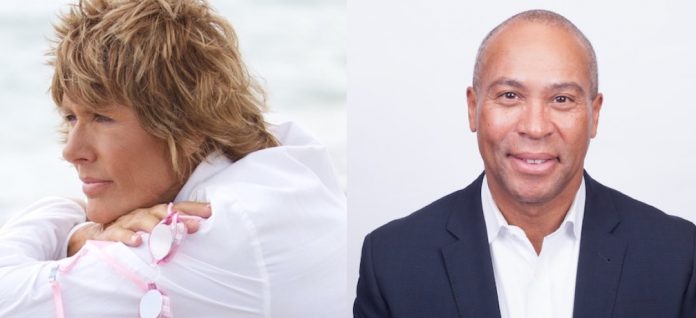 Fenway Health announced today its 2018 awardees to be celebrated at The Men's Event (Saturday, March 10) and The Dinner Party (Saturday, April 21), two of New England's largest and most cherished LGBT-focused charitable events.
For his efforts to advance affordable health care in Massachusetts, former Massachusetts Governor Deval L. Patrick will receive the Congressman Gerry. E. Studds Award at the Men's Event. At The Dinner Party, renowned athlete Diana Nyad will be honored with the Dr. Susan M. Love Award for her contributions to women's athletics and fitness.
"The Congressman Gerry E. Studds Award is given at The Men's Event to honor individuals of integrity and selflessness who embody the spirit of service and provide positive leadership for the LGBT community. The Dr. Susan M. Love Award is given at The Dinner Party to honor and celebrate a woman and/or organization that has made a significant contribution to the field of women's health," says Fenway's announcement of the awards, which goes on to say:
On September 2, 2013, at the age of sixty-four, Diana Nyad became the first person to swim from Cuba to Florida without the aid of a shark cage, swimming 111 miles in fifty-three hours from Havana to Key West. In the 1970s, she became known as the world's greatest long distance swimmer with her open-water achievements, including a record-breaking swim around Manhattan.
For the next thirty years, Nyad was a prominent sports broadcaster and journalist, filing compelling stories for National Public Radio, ABC'S Wide World of Sports, and others. She is the author of the upcoming memoir, Find a Way, and three other books, is a national fitness icon, is a talented linguist, and is one of today's most powerful and engaging public speakers. …
Originally from the South Side of Chicago, Deval Patrick came to Massachusetts at age 14, when he was awarded a scholarship to Milton Academy through the Boston-based organization A Better Chance. After Harvard College and Harvard Law School, he clerked for a federal appellate judge and then launched a career as an attorney and business executive, becoming partner at two Boston law firms and a senior executive at Texaco and Coca-Cola.
In 1994, President Clinton appointed Patrick to the nation's top civil rights post, Assistant Attorney General for Civil Rights. In 2006, in his first bid for public office, he became the state's first African-American governor. In his two terms as Governor, Patrick oversaw the expansion of affordable health care to more than 98 percent of state residents, launched initiatives stimulating clean energy and biotechnology, won a national Race to the Top grant, and steered the state out of recession to a 25-year high in employment.