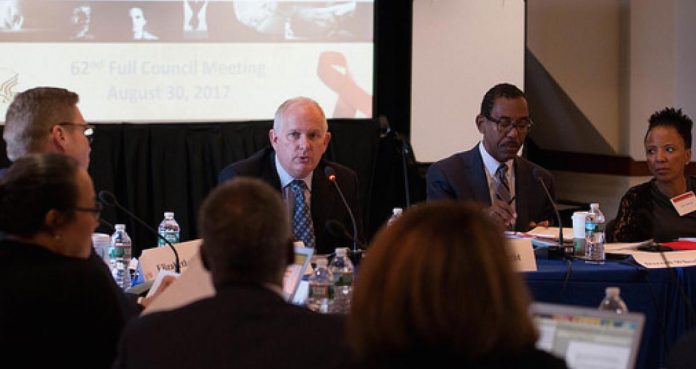 The Washington Post reported Friday that after a half dozen advisors on the Presidential Advisory Council on HIV/AIDS (PACHA) resigned in protest of the Trump administration's policies on health care, the Trump Administration fired the remaining advisors.
News came to the advisors through a Fed-Exed form letter.
The letter "thanked me for my past service and said that my appointment was terminated, effective immediately," former Council advisor Patrick Sullivan told the Post. The Emory University epidemiologist had been appointed to a four-year term in May 2016.
PACHA was established in 1995 to provide recommendations on how to effectively implement national HIV/AIDS strategy and policies, as well as monitor their implementation. Its advisors included "doctors, members of industry, members of the community and, very importantly, people living with HIV. Without it, you lose the community voice in policymaking," Lambda Legal attorney Scott Schoettes, an advisor who quit the Council back in June, told the Globe.
Upon leaving the Council, Schoettes wrote in a Newsweek commentary, ''The Trump Administration has no strategy to address the ongoing HIV/AIDS epidemic, seeks zero input from experts to formulate HIV policy, and—most concerning—pushes legislation that will harm people living with HIV and halt or reverse important gains made in the fight against this disease."
It has to be noted however, wrote the Council's executive director Kaye Hayes, apparently still on the job, in a statement, that "Changing the makeup of federal advisory committee members is a common occurrence during administration changes. The Obama administration dismissed the George W. Bush administration appointees to PACHA in order to bring in new voices. All PACHA members are eligible to apply to serve on the new council that will be convened in 2018."
Still, the Trump administration doesn't exactly have a stellar track record of appointing experts in fields directly related to their appointed positions; it remains to be seen who its "new voices" might be on this Council so critical to the millions in this country and around the globe living with HIV/AIDS.
We will be watching closely what emerges in the New Year.