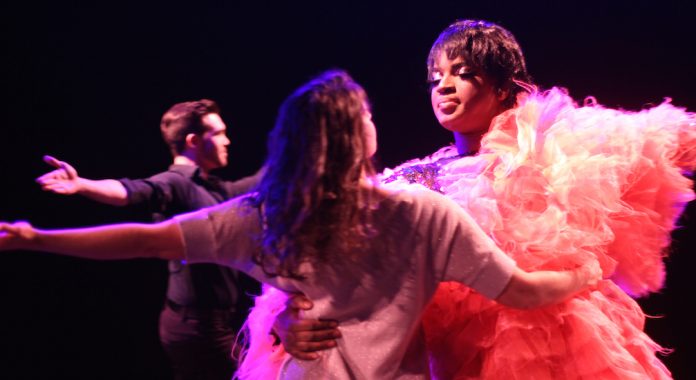 [This story appears in the November|December 2017 issue of Boston Spirit magazine. Subscribe for free today.]
It's not like Peter DiMuro, once of the regions's foremost choreographers and dance innovators, to take a break over the holiday season.
Instead, DiMuro will again bring audiences an alternative holiday show that celebrates inclusivity and family in all its forms—of course, with music and dance. His "Funny Uncles Cabaret," on a bill with David Parker's "Nut/Cracked," runs December 14–16 at the Boston Center for the Arts.
DiMuro, who for four years has been executive artistic director of the Dance Complex in Cambridge, which celebrates 25 years this season, and Parker, both gay and both respected dancers-choreographers, have known each other for 30 years and often presented works in repertory through Peter DiMuro/Public Displays of Motion, a Performing Arts Resident at the BCA. But this year, their shows will share a single ticket, with "Funny Uncles Cabaret" in the program's first half and "Nut/Cracked" in the second.
It makes sense, since the works, although very different, complement each other. It's fitting that two longtime figures in the Boston dance community would have a little fun with the ubiquitous holiday extravaganza "The Nutcracker," which is the bread and butter of many ballet companies. Adding another layer, DiMuro and Parker's creative visions are both through an irreverent LGBT lens: "family tradition" can often be an isolating term. These no-less-family-friendly shows broaden the definition of family and recognize that holiday events can sometimes be isolating and alienating.
"Funny Uncles Cabaret," which features singing and dance from renowned cabaret artists and dancers from DiMuro's company, evolved from DiMuro's dance piece "Gumdrops and the Funny Uncle," set during the winter holidays and about the  struggle of inclusion and exclusion familiar to LGBT. This show itself grew from the holiday staple "The Nutcracker." DiMuro in 1988 played Uncle Drosselmeyer, the magician character, in a Boston Ballet production. In 2013, he reprised the iconic role with José Mateo Ballet Theatre's production of "The Nutcracker."
It is the uncle, DiMuro says, who must let Clara go off to the land of sweets while he exits the stage after Act 1. "Gumdrops" became a meditation about family, about being an outsider within the family, and about letting go.
"It was created at a time of great sadness," says DiMuro who also by 1990 was creating impassioned performance pieces about the AIDS crisis as an emotional response to grief and loss. It was around that time, some 30 years ago, that DiMuro and Parker met. Both performed throughout New England including doing numerous benefits for Community Servings, a local organization close to the heart of Joan Parker, David's mother.
"In my own way, I used the deep feelings around the AIDS crisis to be a deeper choreographer," he says. Dance allowed him to approach grief, loss and anger abstractly rather than directly, he says.
This year's incarnation, "Funny Uncles Cabaret," is a hybrid of  "Gumdrops and the Funny Uncle" and "Everyday Cabaret," another ongoing Peter DiMuro/Public Displays of Motion production. The holiday cabaret is more playful and celebratory but still retains some of "Gumdrops" melancholy—there will be Judy Garland songs, after all.
"Nut/Cracked," directed by Parker and Jeff Kazin and choreographed by Parker, combines tap and modern dance with percussion that mixes Tchaikovsky, Duke Ellington and Glenn Miller, among others. Parker and Kazin have performed the show around the world for the past 15 years.
DiMuro, who grew up in a tiny town in Illinois—where his father, who had grown up in East Boston, served as the chief of police—earned his MFA in dance from Connecticut College under Martha Myers and a BFA in theatre from Drake University. One of his most pivotal roles was his 10-year tenure as performer-choreographer-collaborator with Liz Lerman Dance Exchange, where he later served as the company's artistic director. With Lerman and the company, he toured internationally, creating works with the professional core company but often expanding to the larger community to include various members of all ages and backgrounds.
Lerman's philosophy, method and approach continues to impact his work. "I saw her vision for dance, there were no barriers to dancing," he says. By including different communities in the programs it created natural diversity. "It was professional in the widest terms," he says. "It was about living as well as dancing."