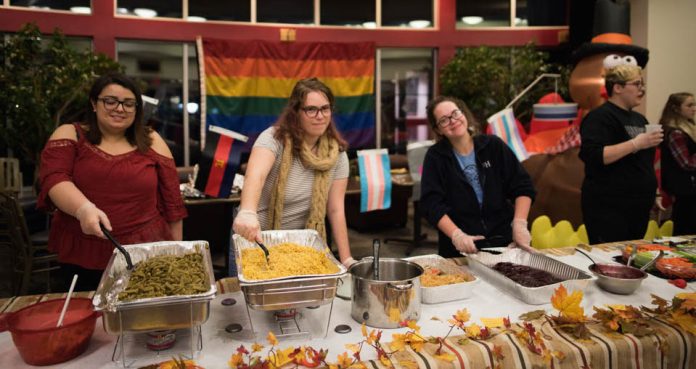 The holidays can be an especially hard time for LGBTQ youth.
At the University of Maine, two student groups—UMaine LGBTQ Services and Wilde Stein: Queer Straight Alliance—get out front of this issue each year hosting their own Gay Thanksgiving Potluck dinner, now an annual tradition on campus, especially for students who don't feel comfortable going home for the holidays.
"For many LGBT students, holidays can be very difficult times," Mark Dube, a graduate assistant at the school's Rainbow Resource Center, told the Maine Campus student newspaper. "Some go back inside the closet. Some can't go home. That is why we host events like this. It provides LGBT students a place to have a safe and supportive holiday."
The Maine Campus goes to point out that:
According to the True Colors Fund, a nonprofit organization working to end homelessness among LGBT youth, half of all teens get a negative reaction from their parents when they come out. More than 25 percent are kicked out of their homes.
True Colors Fund states, "In America, up to 1.6 million youth experience homelessness each year. The statistics for LGBT homeless youth are even more shocking, as this group represents up to 40 percent of all young people experiencing homelessness."
While these statistics are alarming, they don't begin to tackle the number of teens who don't feel comfortable or welcome at home. Students Alice Gluchanicz, Naedia Clarke and Liam Griffin sat together at a table decorated in festive tablecloths and small arrangements of fall foliage. They hoped for cornbread and pumpkin pie while discussing past Gay Thanksgivings.
"Even if you don't know the LGBT office exists, or where it is, seeing events like this helps people know and feel the community's presents on campus," Clarke said. …
Not all students who attend Gay Thanksgiving identify as part of the community. However, it was clear that everyone was welcome to contribute to the celebration and enjoy the potluck.
"Last week we had Multicultural Thanksgiving, and I've been thinking about why events like this are important," Dean Dana said during the opening remarks. "I know there are lots of things happening in the world that are sad, that make us mad, and upset us. This is a place we can come together, take each other's hands, take a moment and make the world a better place. Being nice counts. That's what defines a community."
To learn more about the True Colors Fund and what you can do to lend a hand to LGBT youth during the holidays and all year round, check out their website at truecolorsfund.org.