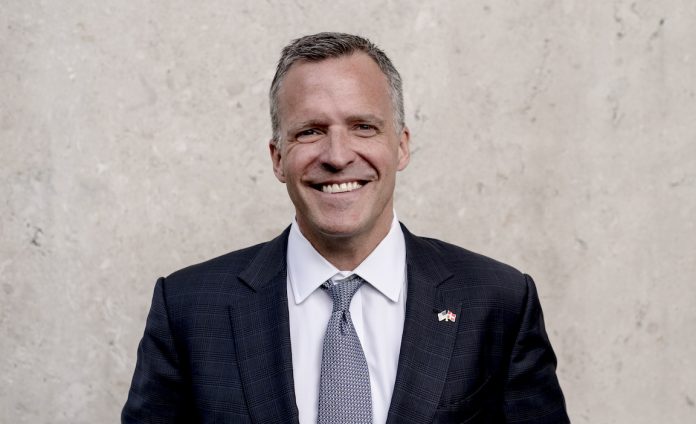 The openly gay former US ambassador to Denmark and Massachusetts native Rufus Gifford is seeking to fill the Congressional seat that Democrat Niki Tsongas is leaving at the end of her current term.
The 43 years old Concord resident, born and raised in Manchester-by-the-Sea, told Boston Spirit for our cover story back in March/April 2017 that he hadn't exactly expected to run for elected office after he returned from the job President Obama had appointed him to do—representing the United States in Denmark. The one thing Gifford was certain about, he said, was that he would be "part of the political debate going forward."
A Trump administration, he said, is "not the time to stand on the sidelines."
Gifford told Spirit that he takes seriously the "jarring overload" of daily headlines—from Muslin bans to border walls to tweeted attacks on federal judges and the list goes on—that reflect an agenda which gives cause for grave concern.
"My biggest concern is that somehow apathy will set in," he added. "That somehow, time will normalize this administration. If we the people are so appalled by so many of the things going on in this country, can we stay focused? Can we stay committed?"
So far, Gifford told Spirit, he's been inspired by the marches, rallies, demonstrations and grassroots organizing that suggests Americans are ready to stand up to efforts to compromise our time-honored principles. "We're seeing great examples in American activism," says Gifford. "People are standing up and saying that things like the Muslim ban are inconsistent with our values, and we're going to call you on it."
Gifford also told NBC News, "I think what plagues our politics right now is the inability to compromise, the inability to work [with] the other side."
But back in our Boston Spirit interview, he credited his personal history of life lessons for teaching him to appreciate other people's perspectives while staying true to one's own values.
"Growing up on the North Shore in a very traditional family, it wasn't a culture where I fit in," Gifford told Spirit. "It made me figure out who I was in this world. It made me work hard. It made me fight. It made me take risks. It made me want to leave home and see the world. It made me want to meet people who are different. In that way, my sexuality so much informed who I became professionally."
Gifford is the seventh Democrat to enter a highly contested race for Tsongas's seat along with two Republicans.
Boston Spirit Lifestyle Editor Scott Kearnan, who interviewed Gifford for the March/April 2017 cover story, contributed to this posting with facts and quotes pulled from that article. Thanks, Scott!