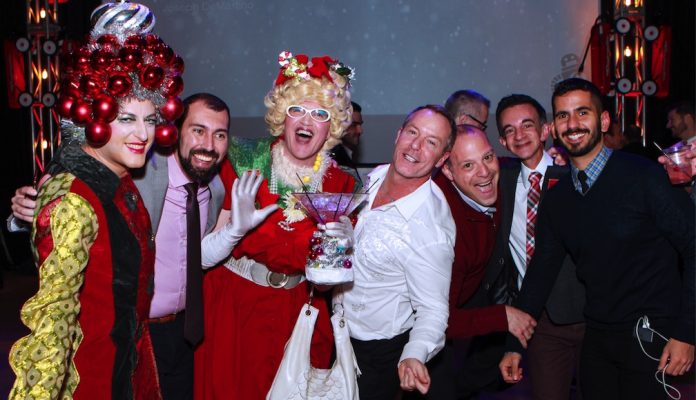 "We're not a formal event. We're more like a huge cocktail party," says Toys4Joys founder James Rifino.
For the ninth annual Toys4Joys drive gift gala on Friday, December 8, The Revere Hotel's Liberty Hall will be transformed into a beautiful, festive holiday wonderland, where thousands of generously donated toys will be piled high under the Holiday Tree. Revelers will enjoy holiday passed hors d'oeuvres and signature seasonal spirits, and dancing to Boston's own DJ Adilson under a state of the art light show.
All guests are asked to bring a minimum of three toys with a minimum value of $20–$25 per gift. Gifts must be new and unwrapped. For more details, visit The Ninth annual Toys 4 Joys Gift Gala website, where you can also purchase gala tickets.
As our Lifestyles Editor Scott Kearnan reported in our special holiday spread:
Over the last 15 years, this annual toy drive has grown from a simple, heartfelt home party to a full-scale holiday extravaganza that brings together hundreds of gift-bearing guests (mostly gay). Over 3,000 toys are collected annually, delivering smiles to underserved kids via benefi-ciaries like the Boston Housing Authority and the Teddy Bear Foundation for Foster Children, another gay-founded effort led by Lawrence's Tim Davis, a former foster child himself.
Along with the glitzy fun of the gala, a big part of its charm, Kearnan noted, is its smaller, community-based feel:
Before Toy4Joys was filling up hotel event venues, it started as a small Christmas party at Rifino's home in 2002. His intimate group of guests brought toys and gifts to donate, and by 2007 he had assembled a board of fellow gay professionals to transform the event into a large-scale public bash.
Toys4Joys is now a 501c3 nonprofit, and highest-level sponsorships go for $7,500. Of course everyone is welcome to participate just by So check out toysforjoys.org, where you can find out how you can also become a sponsor, or the gift gala event website where you can purchase gala tickets and find out how to join in the fun.