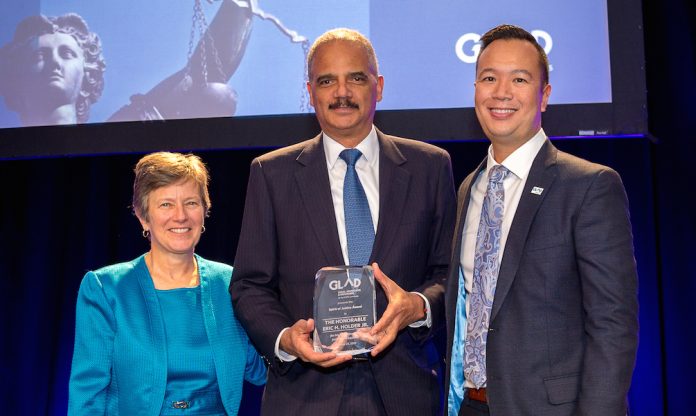 "Keep standing up, keep speaking out, keep resisting," former US Attorney General told the crowd of 1,000 advocates for LGBTQ equality at the GLAD's 2017 Spirit of Justice Award dinner. The event was held in Boston on October 27.
Holder received the award "for his instrumental role in advancing LGBTQ justice, and his leadership on other civil rights matters including criminal justice reform, and voting rights," according to a GLAD news release.
Attendees also heard from Dylan Kohere, an 18-year old freshman at University of New Haven who has been barred from enrolling in ROTC because of President Trump's ban on transgender people serving in the military. Kohere is a plaintiff in GLAD's lawsuit Doe v. Trump, which challenges the ban. On Monday, a federal district court ruled in favor of the plaintiffs and enjoined the ban.
The annual event this year raised $890,000 to support GLAD's work fighting for LGBTQ equality through litigation, legislation, and education.
In a November 2 e-blast, GLAD Executive Director Janson Wu said, "This is what I don't want you to miss from the Spirit of Justice event":
This year's Spirit of Justice honoree, the Honorable Eric H. Holder Jr., reminded us that not only have we seen injustice before, but that equality has prevailed when each and every one of us works together in service of the truth[:]
"There is much work to do. There is much to struggle about.  The battle will be long.  It will not be easy. There will be defeats that will accompany significant victories.  We must steel ourselves and, as those who came before us, persevere in the face of unprincipled opposition and specious reasoning.  Our cause is just.  Our cause is consistent with the founding ideals of this nation.  I look forward to working with you all to make this nation the place of equality, justice and fairness it can and must be."
For more on all that GLAD is doing, go to glad.org.