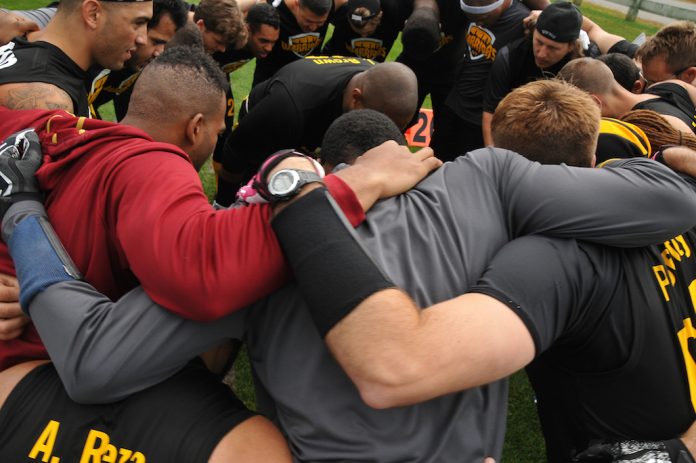 After recently announcing the New England Patriots as MVP sponsors, Boston's FLAG (Friends, Lesbians and Gays) Flag Football League added the Boston Red Sox, Celtics, Bruins and Revolution as Bronze sponsors for Gay Bowl XVII, held last weekend right outside Boston.
FLAG Flag Football Boston hosted this national championship, which brought some 900 LGBTQ and allied flag football players from more than 36 teams—including the Boston Hancocks and the Boston Bulldogs—from across the United States and Canada to compete on the fields at Progin Park in Lancaster, Massachusetts, and socialize at various Boston hot spots, including at opening and closing night parties.
Robert Kraft, owner of the New England Patriots, came out to cheer the players on at the closing night party. According to the Boston Globe, "The Patriots have taken the unprecedented step of financially backing the event, thanks in no small part to Josh Kraft. The owner's son is the president of the team's charitable foundation, as well as the Nicholas President of the Boys & Girls Clubs of Boston."
The Kraft's $25,000 donation was the first sponsorship of its kind by any major professional sports team. The other major league Boston-area teams pledged their support right after that, reported the Globe.
"It's incredible to see the growth of this event since it was last hosted in Boston in 2003," said Red Sox President Sam Kennedy in a press release from FLAG Flag Football Boston. "What began with just a handful of teams over a decade ago has now grown to include over 40. We are proud to support the LGBTQ community, Gay Bowl XVII and the men and women playing in it."
In a similar show of support, the Patriots welcomed about 15 teenagers from the Boston Alliance of Gay and Lesbian Youth (BAGLY), to an afternoon at the Patriots' Gillette Stadium with former Patriot Ryan O'Callaghan, who came out publicly as gay last June, and former NFL fullback Tony Richardson. (The current Patriot line-up couldn't join them since the event took place the day before the 2017 NFL season opener.)
The event at Gillette was organized by Wade Davis, the NFL's first diversity and inclusion consultant and director of the You Can Play Project, which aims to build a greater sense of safety and inclusion in all sports. According to ESPN, "Much of the conversation [at Gillette that afternoon] was about inclusion, challenges facing trans people and the barriers LGBTQ people face in the sports world. The youth leaders listened to the stories from Richardson and O'Callaghan, and also shared their own perspectives."
Getting back to Gay Bowl XVII, the New York Warriors took home the Men's A title; the LA Express Blue, the Men's B; the Motor Coty Hitmen, Men's C; and the Denver Mile High Club Blue scored the Women's title.
For more on Boston's FLAG Flag Football, go to flagflagfootball.com.