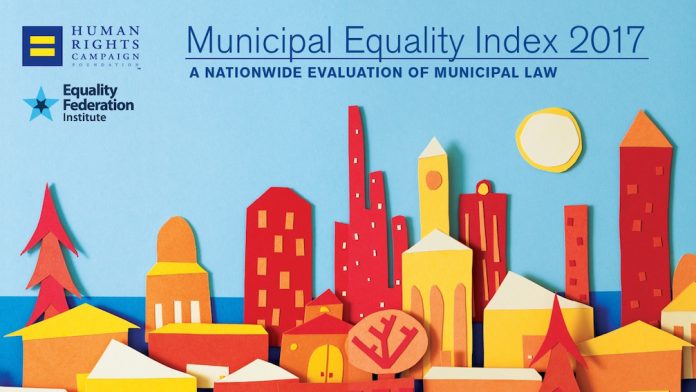 Five Bay State Cities earned top marks, with perfect 100s, on the Human Rights Campaign's latest Municipal Equality Index, its sixth edition, released October 18.
Overall, Massachusetts municipalities scored a healthy average of 87. New England states scored well, with Connecticut and Rhode Island joining Massachusetts to come in above the national average of 57, Maine hitting the national average, and Vermont and New Hampshire coming in close.
Here's the breakdown, but check out the HRC's full Municipality Equality Index, sixth edition, for each state's top city rankings (typically including 8–10 cities) and details on what the numbers mean and why they matter:
Massachusetts municipalities' average score came in at 87 our of 100 points, with five cities earning top marks of 100—Boston, Cambridge, Salem, Worcester and Provincetown (technically, a town but considered a municipality by HRC; see the report for more on that). Near-perfect earners included Arlington at 94 and Northampton at 89.
Connecticut cities earned an average of 75, with top-scoring cities Stamford came in at 100, Hartford at 96, New Haven 94, Norwalk 79 and New Britain 74.
Rhode Island cities average came in at 60.25, with Providence earning 100, Warwick 70 and Pawtucket 66.
Maine cities scored a 57, with top-scoring cities Portland earning 80, Scarborough 66, South Portland 60, Bangor 59 and Augusta 57.
Vermont municipalities earned 53 out of 100, with top earning cities Burlington at 82, South Burlington 61, Winooski 60 and Brattleboro 54.
New Hampshire cities averaged 49. Its top-scoring cities are Durham at 74, Dover at 49 and Portsmouth at 48.
The 2017 Municipal Equality Index, the only nationwide rating system of LGBTQ inclusion in municipal law and policy, shows that cities across the country continue to take the lead in supporting LGBTQ people and workers — even in face of renewed attacks this year on the LGBTQ community by federal and state officials.
For LGBTQ Americans, legal protections and benefits vary widely depending on location — states and cities have markedly different laws governing discrimination. 20 states have non-discrimination laws that include protections for LGBTQ people in employment, and 19 states have laws that protect LGBTQ people from discrimination in places of public accommodation. But cities are leading the way: since the MEI's debut in 2012, the number of cities earning perfect scores has increased more than sixfold, and today at least 24 million people live in cities that have more comprehensive, transgender-inclusive non-discrimination laws than their state.