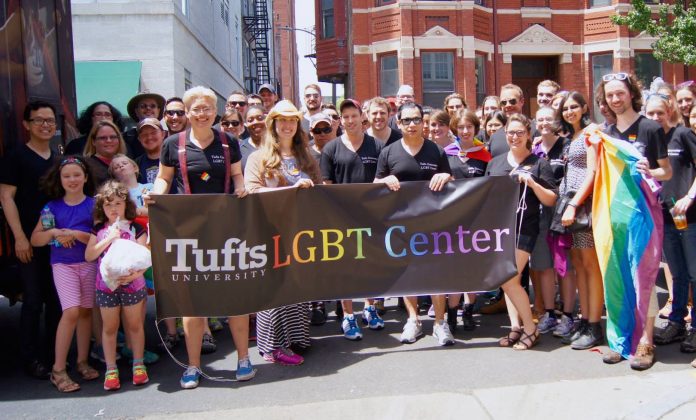 Tufts University and the University of Massachusetts Amherst earned top marks on the 2017 Campus Pride Index. The national LGBT youth support and advocacy organization examined more than 300 campuses, and these two Massachusetts schools made the Index's prestigious Top 25 list—a spot UMass Amherst has held for the past seven years.
"To be among the top colleges for seven consecutive years, when a growing number of institutions are improving programs and services to LGBTQ+ students, is a testament to how our center, student affairs and campus life and other UMass departments and offices are always looking for ways to best serve LGBTQ+ communities," Genny Beemyn, director of the campus Stonewall Center, wrote in a press release.
UMass-Amherst's Stonewall Center became the first professionally staffed LGBT campus center in the United States when it opened its doors in 1985. Notes the Index, the school also opened the first residence hall program for LGBTQA students in 1992.
Over in Medford, Mass., "Tufts has multiple centers that work together to help increase awareness of the diversity on campus," notes the Index. Since 1992, its LGBT Center "provides programming, advising, and educational resources and aims to improve the experience of [LGBT] people at Tufts, as well as to provide campus-wide education about sexuality, gender, and the effects of heterosexism, cissupremacy, queerphobia, and other forms of dehumanization."
The Index rates institutions of higher education on a scale of one to five stars based on criteria set in eight categories: LGBT policy inclusion, support and institutional commitment, academic life, student life, housing and residence life, campus safety, counseling and health, and recruitment and retention efforts.
Other high-scoring campuses in New England include, at four-and-a-half stars: MIT, University of Vermont, University of Maine at Machias, University of Connecticut, Babson College, Connecticut College, Williams College and Dartmouth College.
New England campuses earning four stars are Bridgewater State University, Central Connecticut State University, Wheaton College, Amherst College, Bowdoin College, University of Maine at Farmington, University of Southern Maine and Sterling College.