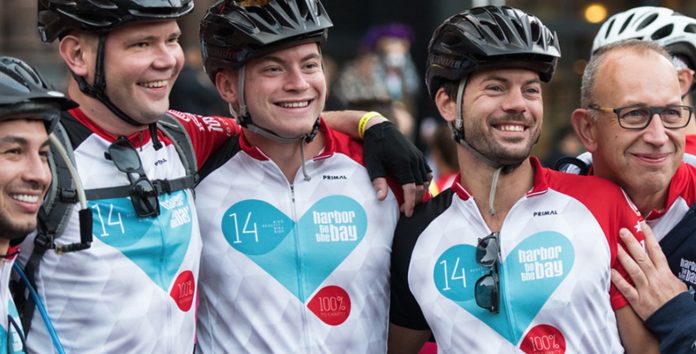 The annual Harbor to the Bay (H2B) ride just passed a major milestone in the fight against HIV/AIDS … and it's still a few weeks away from the 2017 ride, which takes place on Saturday, September 23.
Earlier this week, the annual event hit and flew right on past the $5,000,000 mark in funds raised for four of the hardest working local organizations helping people living with HIV/AIDS and racing toward a cure: Fenway Health, The AIDS Support Group of Cape Cod, the AIDS Action Committee and Community Research Initiative.
Boston Spirit caught up with H2B President Jim Morgrage, the community leader and Club Café owner and manager who founded the ride back in 2003. Morgrage has been working with AIDS organizations since 1990, beginning as a volunteer at AIDS Response Seacoast in Portsmouth, New Hampshire. In 2015, Fenway Health honored him with the Congressman Gerry. E. Studds Award.
On hitting the $5 million mark, he told us, "This may not seem that amazing until you understand that there is no paid staff organizing this event. It is a grassroots endeavor put together by members of our community that care deeply about those living with and impacted by HIV/AIDS and have made it their mission to not stop until there is a cure!"
Um, Jim? Raising $5 million for these agencies sure sounds like a very big deal to us! But we understand there's much more work to be done.
"I am having a really hard time with all that is going on in our world today," Morgrage says, but "I wanted to take a minute and let you all know that there is so much good in our community and our world and invite you to take part in it. It is not too late to join us this year. This is a fully supported ride that you can do, and if you are not up to riding with us this year we are always looking for crew members who make it all possible. This is an event that will lift you up and fill your soul when you feel all the unconditional love from all the others that are involved."
Here's the scoop:
On Saturday, September 23, "240 riders and over 200 crew members will head out on a beautiful, early fall morning, to complete the 2017 Harbor to the Bay AIDS benefit Bike ride," Morgrage says.
The full route runs some 125 miles from Boston to Provincetown, but cyclists can also opt to take a 68-mile alternate route from the upper Cape to P'town. For more details, contact Jim Morgrage or Frank Ribaudo at (617) 536-0966 (Club Café) or visit harbortothebay.org.
One hundred percent of the rider-raised funds go directly to the four healthcare and research agencies noted above. Founding sponsors include JetBlue Airways. Ketel One Vodka, Club Café, Bay Windows, Boston, Massachusetts, Boatslip Resort and Harbor Hotel, Provincetown, Massachusetts.
"I want to specifically thank our incredible sponsors, all volunteer committee, beneficiaries, riders, crew members, and the thousands who sign on and donate to all of us. There really are no words to express how much you all mean to all of us," Morgrage says.
And to Jim Morgrage, we'd like to say there are no words to express our gratitude for all you have done and continue to do to make this race toward the finish line possible!