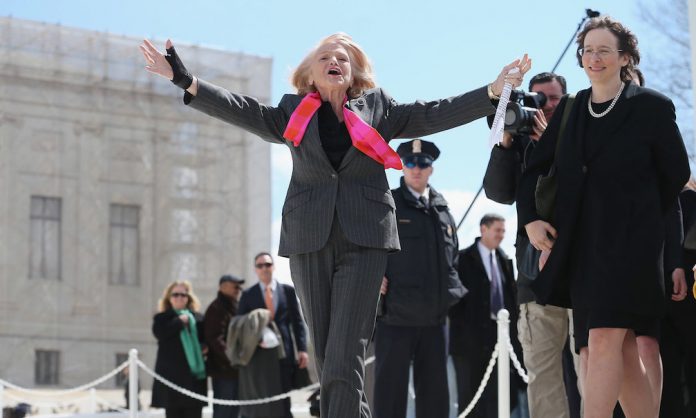 No doubt we'll be celebrating her life in New England as well as in her home state New York. In fact, everyone in the country who supports marriage equality will be celebrating the life of Edith Windsor from coast-to-coast in the coming days.
Windsor—"the gay-rights activist whose landmark case led the Supreme Court to grant same-sex married couples federal recognition for the first time and rights to a host of federal benefits that until then only married heterosexuals had enjoyed," led her New York Times obituary—passed away yesterday, September 12, at 88.
"I lost my beloved spouse Edie, and the world lost a tiny but tough as nails fighter for freedom, justice and equality," Windsor's wife Judith Kasen-Windsor told NPR. "Edie was the light of my life. She will always be the light for the LGBTQ community which she loved so much and which loved her right back."
NPR went on to describe the story:
The long roots of Windsor's legal fight dated to the mid-1960s, when she met [her long-time partner prior to Kasen-Windsor] Thea Spyer at a restaurant in New York City. Spyer, a psychologist, proposed to Windsor in 1967 — offering Windsor a pin with diamonds rather than an engagement ring, concerned that the ring would lead others to ask some questions the pair couldn't answer.
"She got out of the car and got down on her knees and said, 'Edie Windsor, will you marry me?' And this pin appeared," Windsor recalled in an interview with NPR's Nina Totenberg.
Nina notes there was nowhere for them to marry at the time; it would take decades — and one "lousy prognosis" for Spyer's multiple sclerosis — before the pair finally headed to Toronto to obtain their same-sex marriage, which was also recognized by New York.
Just two years later, Spyer died. And in the weeks afterward, as Windsor looked at the bills she now faced, she was confronted with a terrible truth.
"If Thea was Theo, I would not have had to pay that," she told Nina. The law known as DOMA, passed in 1996, barred her from receiving the federal tax benefits of marriage, no matter what New York said. "It's heartbreaking. It's just a terrible injustice, and I don't expect that from my country. I think it's a mistake that has to get corrected."
And so, she decided to mount a legal fight to correct it herself.
After her case worked its way through the appeals courts, the Supreme Court decided in late 2012 to take it up. At the time, some gay-rights activists worried it simply might be too soon to have their day in court, concerned — as Mary Bonauto of [GLBTQ Legal Advocates & Defenders (GLAD)] put it at the time — that the Supreme Court would want to be sure "they are not too far ahead of public opinion."
In the end, those worries did not come to fruition. The high court decided 5–4 to overturn DOMA in 2013, dealing same-sex-marriage advocates a landmark victory.
Check out the Boston Spirit website for updates on local celebrations of Windsor's life.