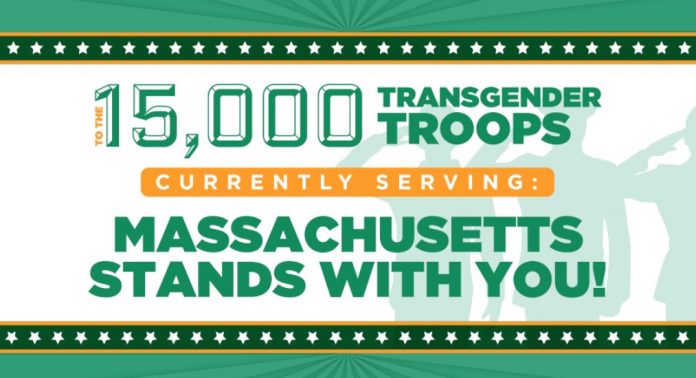 President Trump turned his harassing Tweets against transgender US military service people into official Pentagon policy on August 25, signing an order that would prohibit transgender Americans from military service and halting military service people's gender reassignment surgery.
The fight for the rights of transgender US military service people is underway.
A major legal motion to block implementation of the ban is being sought now. This block would remain in place until a federal lawsuit on behalf of five transgender service members with nearly 60 years of combined military service has been decided and any appeals heard. The federal case was filed by both the Boston-based GLBTQ Legal Advocates & Defenders (GLAD) and the National Center for Lesbian Rights (NCLR).
Another potential glimmer of hope: Trump's order gives Defense Secretary Jim Mattis "wide discretion in determining whether transgender personnel who are already in the armed forces can continue to serve," according to an Aug. 25 Boston Globe report. However even if Secretary Mattis exercises nondiscrimination in this matter—as he may well do given his and other top military officials' initial response to Trump's tweets—it still does little to ease the anxiety, uncertainty and reckless distraction Trump has created within our military branches in this matter.
Kasey Suffredini, co-chair of Freedom for All Massachusetts—the campaign working to defeat a 2018 ballot initiative that would repeal Massachusetts' transgender nondiscrimination law—issued the following statement:
"As Americans, we have a sacred obligation to honor and protect anyone who is willing and able to serve in or nation's armed forces. Transgender Americans serve for the same reasons as anyone else: because they cherish our country's values of freedom and fairness. President Trump pledged to be 'great' for both LGBT people and veterans, and today he has broken that promise. He has not only failed to take any significant step to ensure America's safety and national security—he has disrespected and demeaned loyal transgender members of our military who put their lives on the line every single day for our nation."
In a press release, Freedom for All Massachusetts noted that:
Nearly one in five transgender Americans – 21% – is serving or has served in the U.S. armed forces—over twice the percentage of the general population. Currently, there are approximately 15,000 active transgender service members.
The military itself has carefully studied this issue and concluded that there is no military reason to bar transgender people from service, stating that a more inclusive policy has little or no impact on unit cohesion, operational effectiveness, or readiness.
To keep informed and find out how you can help stop Trump's ban and protect the Bay State's nondiscrimination law protecting transgender people against the 2018 ballot initiative to repeal it, go to freedommassachusetts.org and glad.org.