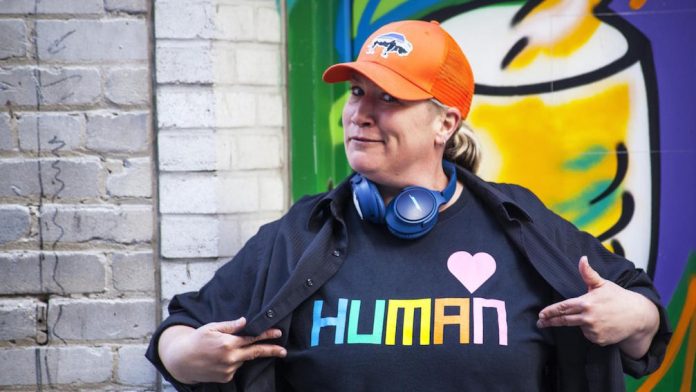 Comedian Kristen Becker says she remembers what it was like growing up in Louisiana where she had to constantly hide that she was gay. ""You would go through your day, day after day, in a constant fear that someone was going to find out," she told the Boston Globe.
Years later, the 40-year-old Provincetown townie described it to her friends. She told them about her dream to bring Southern youth like herself up to the famously gay-friendly "safe haven" to experience the healing power of acceptance.
Her friends, reported the Globe in an April 26 article, "immediately stepped forward. Some donated frequent flier miles to help offset the price of plane tickets. Business owners said they would gladly hire new arrivals. Host families opened their doors."
And "Summer of Sash" was born.
The program is matching young adults with host families that will provide "a safe summer home away from home." It joins other successful P'town initiatives geared to LGBT youth like Provincetown Family Week (July 29-Aug. 5) and Camp Lightbulb (June 24-July 1).
Says the Globe, "The high cost of housing in the vacation haven means it's vital for families to step forward. Thousands of tourists vie for spots, and a one-bedroom apartment can easily fetch $9,000 for a few months, said Erik Yingling, vice chairman of Provincetown's Board of Selectmen. Host families are offering their rooms for a fraction of the going rates, and although the young visitors will have to pay the rent this summer, organizers hope to raise money in the future to defray costs."
Sam Mitchell, a 17-year-old transgender youth from East Texas, is one of three kids profiled in the Globe story:
Mitchell, who lives in East Texas, can't imagine a place where his gender is not an issue, where the specter of being bullied is not a daily fear. Recent federal data suggest he is hardly alone: Lesbian, gay, bisexual, and transgender young adults are significantly more likely than their heterosexual and cisgender peers to harbor suicidal thoughts and behaviors, and to attempt suicide, often related to bullying."
"Just to go somewhere where I will be accepted," Mitchell said, "sounds good."
Mitchell is scheduled to arrive in late May, and his stepmother, Lee Harris, is coming for a few days, too, to meet his host family. Hosts undergo criminal background checks as part of the program, and serve as a sort of big brother or sister to guide the young adults, many of whom may be spending their first extended time away from home.
"I hope he will be accepted there, that it's the type of community where you can just be you, because he has never really had that," Harris said.