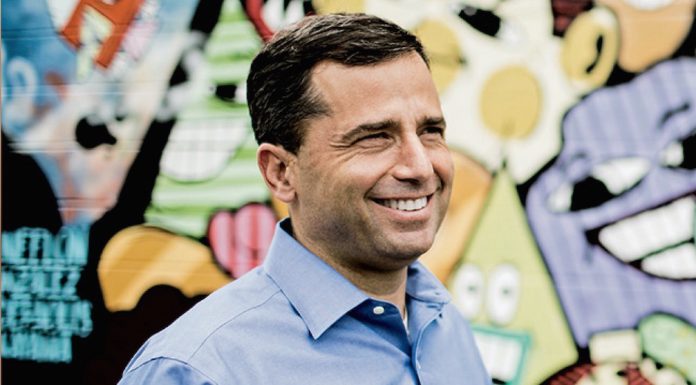 Compassionate leadership. That along with commitment and hard work is what Josh Kraft is being honored for at Greater Boston PFLAG's annual Pride & Passion benefit on Thursday, April 27.
Kraft is president of both Boston's Boys and Girls Clubs and the New England Patriots Charitable Foundation, and he'll receive this year's Cornerstone of Equality Award at the event, which takes place at the Boston Marriott Copley Place.
Along with the awards ceremony, there will be a cocktail reception and dinner plus a live auction. For tickets and details, visit the event webpage or call Amara  at (781) 891.5966.
The event will also honor four high school students with the Elsie Frank Scholarship. Named in honor of the late mother of Massachusetts Congressman Barney Frank, a member of Greater Boston PFLAG's Honorary Board, the scholarships recognize high school seniors who have demonstrated leadership in improving their school's climate for LGBTQ youth. This year's scholarship recipients are: Jo Guiterrez-Barnes of Northampton; Abigail McCarthy of Wayland; Raeonah Miles-Willis of Charlestown; and Rory Smith of Halifax.
As for the guest of honor, Kraft was also the founding executive director of BGCB's Gerald and Darlene Jordan Club in Chelsea "where, for 15 years, he led the after-school program from the basement of a public housing development, until the current state-of-the-art building could be built. A fierce advocate for inclusivity and teaching respect for all in his mentoring of youth, Kraft constantly strives to ensure the safety and acceptance of LGBTQ youth among staff and membership of BGCB," notes a FLAG press release.
"As a nonprofit leader, Josh Kraft has shown an unwavering commitment to diversity. In particularly, his work creating a community at the Boys and Girls Clubs of Boston in which all young people, including LGBTQ youth, are welcome," said Val Frias, Greater Boston PFLAG's Executive Director. "We're grateful for this leadership and thrilled to honor him with this year's Cornerstone of Equality Award."
"It's wonderful to be recognized with this award from Greater Boston PFLAG, an organization that does critical work on behalf of young people and families," said Kraft. "Through my work with the Boys and Girls Club, I share their vision of a world in which all people—including LGBTQ kids—have the support and acceptance of their families and their communities. The philanthropic giving of the New England Patriots Foundation and the entire Kraft family share the goal of supporting young people so they can live lives of dignity and reach their full potential as individuals and members of society. I look forward to continued collaboration among all of us to make Greater Boston PFLAG's vision a permanent reality."