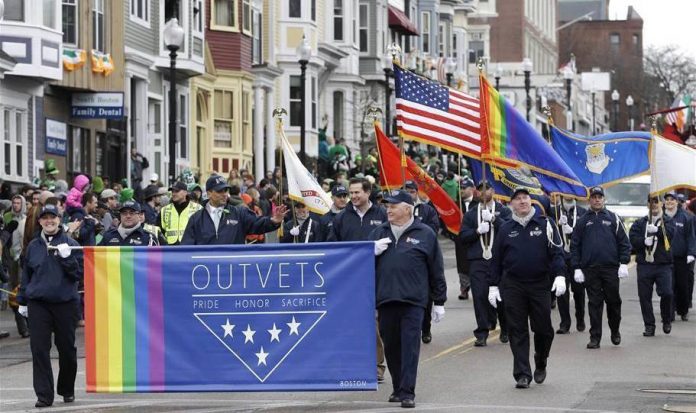 OUTVETS is back in the parade.
After organizers of Boston's Saint Patrick's Day Parade voted 9-4 on March 7 to reject New England's LGBTQ Veterans Organization from returning for the third year to march, the local and national media, political leaders and the public cried afoul.
"I will not be marching in the parade unless this is resolved," said Boston Mayor Marty Walsh, who immediately pulled out from participating in the event in support of OUTVETS. "Anyone who values what our city stands for should do the same." Governor Charlie Baker and Senator Edward Markey did likewise.
The sharp criticism stacked up, coming through The Boston Globe, The Advocate, The New York Times, The Washington Post, and beyond. Corporate sponsors — like Stop and Shop, Anheuser-Busch, the Dedham Institution for Savings, and Boston Scally Co. — started to withdraw their support.
Political leaders like state Senator Linda Dorcena Forry, whose district includes South Boston route of the 119-year-old parade, said she would not participate.
"It is unacceptable to exclude anyone in our community. But the council has chosen to exclude the best of us: Veterans who have bravely served our country and put their lives on the line for our freedoms," Forry told The Boston Globe in a March 10 report. "I know this community does not share these ignorant beliefs. It is shameful that nine individuals would deny veterans the opportunity to march in a parade."
And so just a few days later, on March 10, the organizers met again to take another vote — this time unanimously in favor of inviting OUTVETS back. Unconditionally. The vote cleared the way for OUTVETS to march "with its rainbow banner and logo, a point of contention that the Allied War Veterans Council had cited when it voted Tuesday to reject the organization," reported the Globe.
OUTVETS posted the following statement on its Facebook page last night:
[We were] just informed that a vote was taken tonight by the Allied War Veterans Council. The vote was unanimous (11-0) to accept OutVets into the St. Patrick's Day Parade permanently.
Additionally, we are encouraged by the further actions of the Council to reform their policies and procedures regarding management of this historic parade. These changes will make the parade more inclusive and transparent for the entire community.
We are honored and humbled by all the outpouring of support that has been displayed for our LGBTQ Veterans – who are one of the most unrepresented demographic in our Veterans community. We look forward to marching proudly on March 19th and honoring the service and sacrifice of those brave men and women who have given so much for our country.