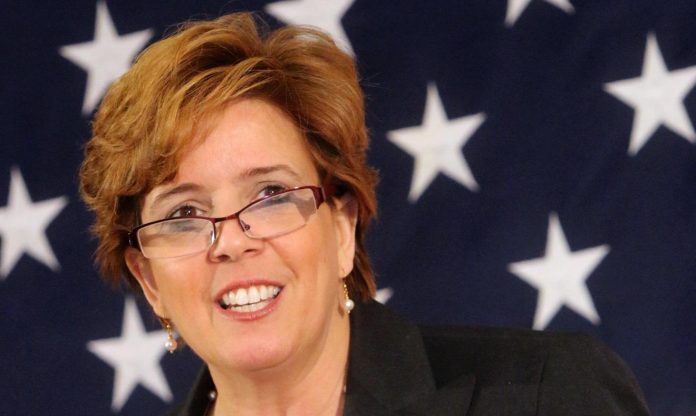 We know that marriage equality is the law of the land in the United States. But it's still not acceptable to the New Hampshire GOP — at least officially.
Outgoing Granite State Republican Chair Jennifer Horn would like to see that change. And that's exactly what she told her fellow committee members at the annual meeting at of the state's Republican Committee on January 28.
"We must put an end to be a party that actively works to deny rights to a small group of people based on who we are," Horn told the crowded room, according to the Union Leader. "We are the party of equal rights for all, so let's remove the language that is against the right for all people to marry."
Horn's remarks were met by some applause along with a smattering of boos.
According to a February 5 SeacoastOnline report, which interviewed the outgoing chair, "Horn would not predict if the party will vote to change the platform when it meets at its next convention in 2018. However, party members said last week they agreed with Horn and hope the change is made."
SeacoastOnline went on to query other Granite State Republican leaders:
Dan Innis, a Republican state senator from New Castle who is gay and married, said last week he has not felt discrimination in the Statehouse and believes the party has become increasingly inclusive. He also said both parties will likely look much different in a couple years from how they now look.
Former Republican state Sen. Nancy Stiles, of Hampton, who Innis replaced, was in the Statehouse when New Hampshire legalized gay marriage. She believes more Granite State Republicans accept gay marriage than don't. "I can only say I hope it will," Stiles said. "Those that believe they should will have a louder voice within the party."
Andrew Smith, director of the UNH Survey Center, said the New Hampshire GOP has always been made up of "Rockefeller Republicans," who are less concerned with social issues than fiscal ones. He said that is partly to do with the Granite State being less religious than other regions of the country where Republicans hold a stronger line on issues like gay marriage and abortion. He cited a recent Gallup poll that showed New Hampshire is statistically the least religious state in the country.