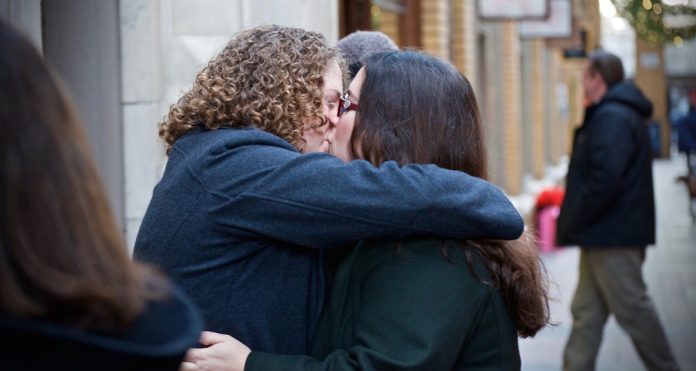 No doubt today's presidential inauguration marks the beginning of a new chapter of challenges (to put it mildly) for the LGBT community (and, well, everyone). Just check out this report on the new president from the Human Rights Campaign:
Donald Trump has been a consistent opponent of marriage equality. He has embraced the nation's most odious anti-LGBTQ law, North Carolina's HB2, and put on the ticket Mike Pence, who has become the face of anti-LGBTQ discrimination after signing a bill to allow businesses to discriminate and deny service to LGBTQ people because of who they are or whom they love. Trump has also said he would sign the so-called First Amendment Defense Act (FADA) which would enable Kim Davis-style discrimination across the country.
Marriage: Trump has been a consistent opponent of marriage equality. He said that he opposed it because he was a "traditional" guy, choosing to support domestic partnership benefits instead. Trump later reversed himself and said he also opposed civil unions. Despite a brief flirtation with "evolving" in 2013, Trump has consistently maintained his opposition to marriage equality, sometimes by citing polling and making an analogy to his dislike of long golf putters. After the Supreme Court ruling, Trump said the court had made its decision and, although he disagreed with the ruling, he did not support a constitutional amendment that would allow states to re-ban marriage equality. He later said he would appoint Supreme Court judges who would be committed to overturning the ruling.
Discrimination: While Trump at one time said that federal law should protect people from discrimination based on sexual orientation, he has taken aggressively anti-equality positions as a formal candidate. Trump has expressed support for the so-called First Amendment Defense Act (FADA) which would lead to more Kim Davis-style discrimination. He has declined to support the Equality Act.
Transgender Equality: Trump has expressed support for North Carolina's HB2, he's said he would rescind the Obama Administration's guidance that transgender students be treated wtih dignity and allowed to use restrooms that match their gender identity, and when it comes to governors like Pat McCrory that write discrimination into state law, Trump has made it clear he would not enforce federal civil rights laws ensure transgender Americans are treated equally under the law.
Executive Order: Trump has said that he disagrees with President Obama's use of executive orders, but has shown willingness to use them himself.
Conversion Therapy: Unclear
Adoption: Unclear
Anti-Bullying: Unclear
Harmful Rhetoric: Trump has hired two operatives with a history of anti-equality rhetoric to leads his campaign. Prior to becoming a candidate, Trump said that Pat Buchanan's anti-LGBTQ rhetoric was disgusting, and he said that LGBTQ groups were glad he was hosting the Miss Universe pageant in Russia to challenge the status quo. But he launched ad hominem attacks on Ariana Huffington and Bette Midler, and he defended a CEO who resigned after opposing Proposition 8 and an NFL player who criticized Michael Sam.
While today may indeed be a day to acknowledge our peaceful transferral of power, it is also a time to reaffirm our commitment to our progressive values of equality and respect for all of us across the country and around the world.