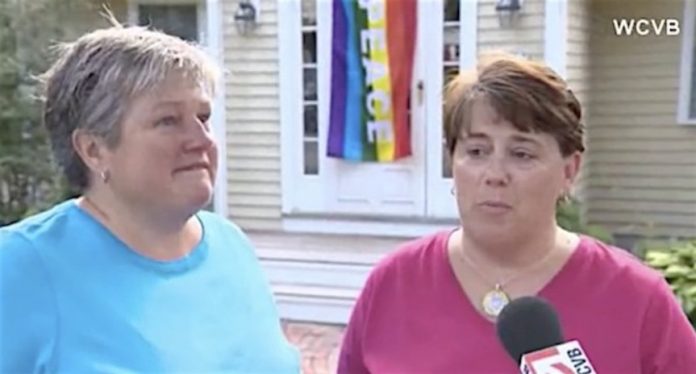 It's the kind of story that shows what the "A" in LGBTQA is all about — for the neighbors of Natick lesbian couple Cari and Lauri Ryding are true allies.
When the couple returned home from a vacation last August, they found their Pride flag stolen and their house egged. "It was our first experience in Natick of having any type of prejudice," Cari Ryding told the Boston Globe. The couple said they had always felt accepted and appreciated for who they were in their neighborhood.
And their neighbors quickly went out of their way to prove the couple was right.
Pride flags went up all over the neighborhood. For this neighbourly show of support, the Boston Globe has given the entire Natick neighborhood an Honorable Mention on its annual Bostonians of the Year 2016 list.
The Globe goes on to tell the story like so:
[O]f course their neighbors were going to do something after news of the vandalism spread — which took all of 20 seconds after Cari posted on Facebook. When [Cari and Lauri] told a local police officer — who, naturally, lives on the street — what had happened, his wife asked if they could get a rainbow flag to hang on their house. On Facebook, people asked for them, too.
Up went the flags, on flagpoles and front doors, on porches and fences, 61 of them, along Strawberry Hill Road and all over the neighborhood. Mess with one of us, the flags say, and you mess with all. "For us, it was just normal that we would do this, that we would rally behind them," says Liz Mazzola, who distributed flags with her kids.
After local media picked up on their story, national outlets followed, and it rocketed across the globe on social media, sped by desperate hunger for a story of love in a political season filled with hate. The Rydings heard from people in Belgium, Australia, France, Spain, Portugal, and Brazil. "We feel we have so little control, but as neighbors, you do have control," Cari says. "Small acts of kindness can have this ripple effect."
If you live in a neighborhood that's been strong for generations, it's easy to forget just how remarkable community can be. Lauri, Cari, and their neighbors never took it for granted exactly. But whoever targeted the Rydings gave the people of Strawberry Hill Road — and the rest of us — a great and enduring reminder of the power of compassion.