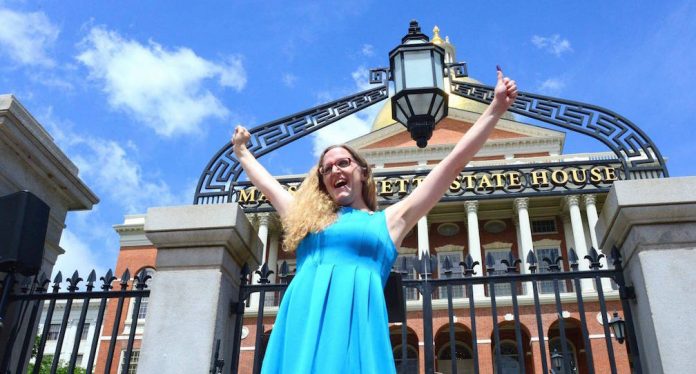 Before we cry "annus horribilis!" of 2016, we at Boston Spirit would like to take a minute to remember a few of its bona fide milestones and other progressive moments as we ring in 2017. Here are just a few of our favorites to get started…
Trans-inclusive public accommodations becomes law
"Massachusetts is now the 1st state this year—& the 18th in the nation—to pass full #trans protections! #TransBillMA."
The tweet rang out from Freedom Massachusetts around 3:30 p.m. on July 8, 2016, after Governor Charlie Baker signed into law "An Act Relative to Transgender Anti-Discrimination," thereby extending protection from discrimination to transgender people in public places.
The state's senate and house reconciled their two versions of the law on July 6. Earlier this year, the governor publicly affirmed that he would sign the bill if brought to him by the legislators.
The governor's public affirmation came shortly after Boston Spirit magazine invited the governor to deliver the keynote speech at its annual executive networking night. It was hoped that the governor would address the issue at the event. When he didn't, protestors sharply voiced their disapproval in front of more that 1,000 members of the LGBT business community and allies as well as major media outlets.
The Spirit event helped bring into focus the tireless work over more than 10 years by groups like Freedom Massachusetts, GLAD, and MassEquality as well as the hardworking legislators and others who made this day possible. The law officially kicked into action on October 1.
Vermont bans conversion therapy
On May 25, 2016, Vermont Governor Peter Shumlin signed into law the prohibition of licensed professionals who counsel minors from attempting to "change" the sexual orientation or gender identity of a minor, aka "conversion therapy."
"It's absurd to think that being gay or transgender is something to be cured of," said Governor Shumlin. "Our country has come a long way in a short period of time in recognizing the civil rights of members of the LGBT community, and I am so proud that Vermont has taken a leadership role at every step of the way. At a time when the rights of LGBT individuals are under attack in other parts of the country, Vermont will continue to stand up to hatred and bigotry and show the rest of the country what tolerance, understanding, and common humanity look like."
Boston's LGBT youth theater honored at White House
On November 15, 2016, Boston's True Colors: Out Youth Theater, a program of The Theater Offensive and the country's largest and longest-running LGBTQ youth theater program, garnered the 2016 National Arts and Humanities Youth Program Award from First Lady Michelle Obama. Represented by participant Traeshayona "Trae" Weekes, 18, and Evelyn Francis, TO's director of programs, True Colors was recognized for its effectiveness in promoting learning and life skills in young people through the arts by engaging them in creative youth development programming. The National Arts and Humanities Youth Program Award is the nation's highest honor for youth arts programs, and True Colors, which was established in 1994, is the first LGBTQ organization in history to receive this award.
Celtics applaud All-Star move
The Boston Celtics voiced its approval on July 21, 2016, when pro basketball's commissioner Adam Silver announced that the NBA is moving its 2017 All-Star Game from Charlotte, North Carolina to protest North Carolina's anti-LGBT legislation (HB2).
"We support the NBA's decision and share the league's values of equality and inclusion. We hope that productive dialogue continues in the effort to welcome all who love our game," a Celtics spokesperson told Boston Spirit.
The All-Star Game was estimated to have been the largest event in that city since the 2012 Democratic National Convention. The event could have had a $100 million economic impact in the Charlotte area.
"While we recognize that the NBA cannot choose the law in every city, state, and country in which we do business, we do not believe we can successfully host our All-Star festivities in Charlotte in the climate created by HB2," read a statement from the NBA.
Precedent-setting civil-rights case
One of the early victories of 2016, won through the efforts of Gay Advocates and Defenders (GLAD), was a Dorchester man's case against Fontbonne Academy before the Massachusetts Superior Court.
Matthew Barrett had only just been hired as the academy's food services director when Fontbonne swiftly fired him when he disclosed that he was married to a man and not a woman.
In this first-of-its-kind decision, the court ruled that the Catholic girls school in Milton had clearly and directly violated the Massachusetts nondiscrimination law; was not exempt from the law; and had no constitutional defenses against its discriminatory conduct.
"Religiously affiliated organizations do not get a free pass to discriminate against gay and lesbian people," said Bennett Klein, GLAD' senior attorney who argued the case. "When Fontbonne fired Matt from a job that has nothing to do with religion, and simply because he is married, they came down on the wrong side of the law."
In early May, Fontbonne settled the case for an undisclosed amount, which means the school cannot appeal the court's decision.
This case is especially important because it sets a strong legal precedent against the upcoming backlash from those on the religious right bent on confusing religious freedom with religious persecution.
Chalk up another first for the Bay State
On November 3, 2015, by executive order, Massachusetts Governor Charlie Baker announced the expansion of the Commonwealth's supplier diversity goals to include LGBT-owned businesses.
While initiatives supporting women and minority-owned businesses are common in Massachusetts and elsewhere, no other state has yet included LGBT businesses until now.
The Commonwealth joined forces with the National Gay and Lesbian Chamber of Commerce (NGLCC) in seeking to officially certify and recognize businesses—a prerequisite for being part of the state's database of eligible businesses.
"As a business owner and entrepreneur you have to be confident. You have to be a risk taker," said Stacy Robison of CommunicateHealth in Northampton. "And those things can be hard when you're faced with discrimination or just worried about how you'll be received. For the state to do something like this—really rolling out the welcome mat—is really huge."
Hassan defeats Ayotte
In a tight race not called until late November 9, 2016, the day after the election, New Hampshire's Democratic Governor Maggie Hassan has officially won first-term Republican Senator Kelly Ayotte's seat on the U.S. Senate.
While competitor Ayotte refused to take a stance on minority equality, Hassan had already been working as governor with the Human Rights Campaign to ensure equal rights for LGBT—and all—citizens in the state.
"I have proudly stood with our LGBTQ community and have worked hard to promote equality and inclusion here in New Hampshire during my time as Governor," said Hassan in a press release announcing the Human Right's Campaign endorsement of her candidacy. "While we have made great strides towards equality in recent years, there remains significant work to be done. In the U.S. Senate, I will continue fighting for policies that help ensure that all citizens are fully included in all aspects of our society, regardless of their sexual orientation or gender identity."