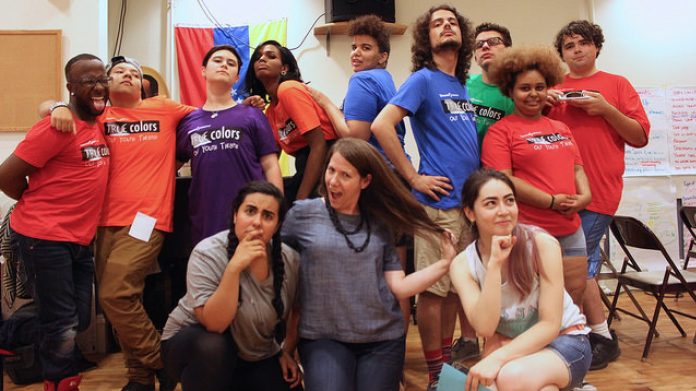 The young thespians from the Boston-based theater program True Colors: Out Youth Theater and their grown-up program leaders from The Theater Offensive have earned a National Arts and Humanities Youth Program Award, which will be presented next week at the White House by Michelle Obama.
"As we continue to focus on the challenges faced by LGBTQ youth, from family rejection to bullying to homelessness, this [award] is inspirational and a validation of our impact. To have affirmation from the highest levels of the arts and the White House is extraordinary," Abe Rybeck, executive artistic director of The Theater Offensive and founder of True Colors, said in a statement, printed in a November 11 Boston Globe article.
According to a statement from the The President's Committee on the Arts and the Humanities, the awards are presented "to outstanding after-school and out-of-school programs that are transforming the lives of young people. Programs that receive the award exemplify how arts and humanities programs outside of the regular school day enrich the lives of young people throughout the country by teaching new skills, nurturing creativity, and building self-confidence." Honorees are selected by the committee along with the National Endowment for the Arts, the National Endowment for the Humanities, and the Institute of Museum and Library Services.
True Colors youth leaders work with The Theater Offensive to develop comprehensive youth programming that engages participants deeply in its mission. Program components include a theatrical group for LGBTQ youth, theater and community-service training, a touring ensemble, and a leadership and inclusion council. Established in 1994, True Colors in the longest-running theater program for LGBTQ youth in the country.