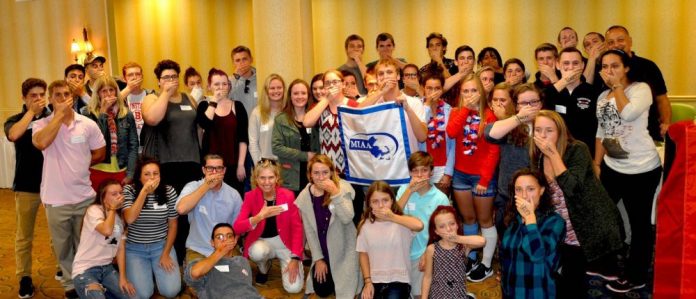 Let's hear it for high school student athlete Jonathan Peters, a senior at Sturgis High School in Hyannis, for organizing a conference all about eliminating anti-gay bullying and promoting acceptance last week.
When Peters and his Dad were watching an ESPN documentary, "The Courage Game," about gay college athletes coming out, he asked himself, why wait until college. Why not now? And so the Peters came out to his parents and then to his basketball team.
And on Thursday, October 6, Peters, who also coaches his school junior-varsity basketball team, brought together more than 160 student athletes, teachers, coaches and representatives of regional organizations for an anti-bullying conference he organized with his school and the Youth OUTreach Program  and held at the Resort and Conference Center in Hyannis. Peters invited some major players: keynote speaker Cyd Ziegler, the co-founder of Outsports.com, and Braeden Lange, a 13-year-old lacrosse player from Pennsylvania featured in "The Courage Game."
In an interview for WBUR radio, Peters acknowledged how tough the talk got—with anti-gay slurs commonplace—among his own peers, how it hurt him to hear it, and how he felt forced to dish it out himself. After all, the guys on the court were mostly just trying to toughen each other up. But that didn't make it okay and he wanted to do something to fix it, on and off the court. "I hear a lot from being in the LGBTQ community about how much harassment some kids go through, some of my friends," he said.
According to the WBUR report:
The Gay, Lesbian and Straight Network conducted a survey in 2011 of over 8,500 LGBT students from across the country. What they found was that only 23 percent of LGBT students played sports in school. Many of them reported being harassed or assaulted because of their sexual orientation — and some even said they were deterred from playing sports because their presence would be disruptive.
Peters' conference aimed to change that, and by all accounts the young athlete is making waves.
On the home front, Peters' dad, a former school principle, is very proud. "This would not have been happening in my early days as a school leader," he told WBUR. "You wouldn't have kids who were so strong, bold. School leaders were hesitant, because we hadn't been faced with it. It's a changing world for the better in that way, but it's never going to be perfect. You're always going to need school leaders like this, and Jonathan Peters to step up and do what's right."