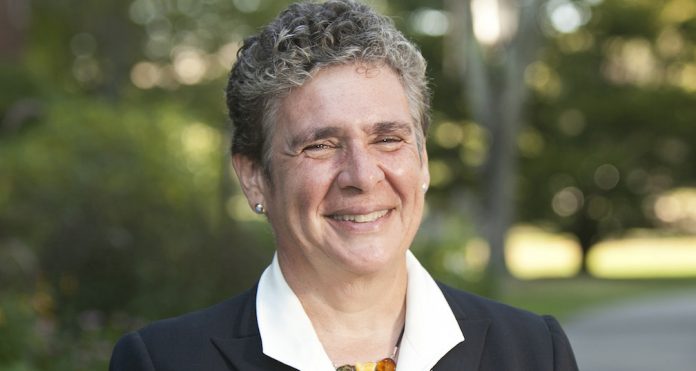 For the second year, one of New England's very best and brightest business leaders has been named to not one, but two of the most prominent executive leadership lists—The Financial Times' 2016 OUTstanding Leading LGBT+ & Ally Executives and the Times' LGBT+ Future Leaders—in recognition of her commitment to LGBT rights.
The Financial Times bestowed its top honors to Elyse Cherry, CEO of Boston Community Capital, a community development finance institution that works in low-income communities. According to a October 25 press release:
Cherry has led Boston Community Capital (BCC) in becoming an industry leader on LGBTQ issues. Under her leadership, BCC was an early adopter of policies that supported equal opportunity regardless of sexual orientation and provided health insurance coverage for the partners of BCC's LGBTQ employees—years before the law decreed it. 
From 2004 to 2006, Cherry chaired the Board of MassEquality during the height of that organization's successful campaign for the establishment and protection of marriage equality in Massachusetts. She also signed BCC on to two Supreme Court amicus briefs in support of marriage equality, and in 2015, the Astraea Lesbian Foundation for Justice presented her with its "Fuelling the Front Lines" award. She continues her 25-year practice of advocating for LGBT issues at the front lines of Massachusetts' political and business communities.
Boston Spirit started out this year celebrating Cherry as one of our region's top philanthropists who "go the extra mile to help make a better city and a better world." Describing her philosophy on philanthropy to us, Cherry said "The goal is to aim time, talent and treasure toward leading a values-driven life and toward building the world we want—a world in which full equality is a given, not a goal, for all of us."