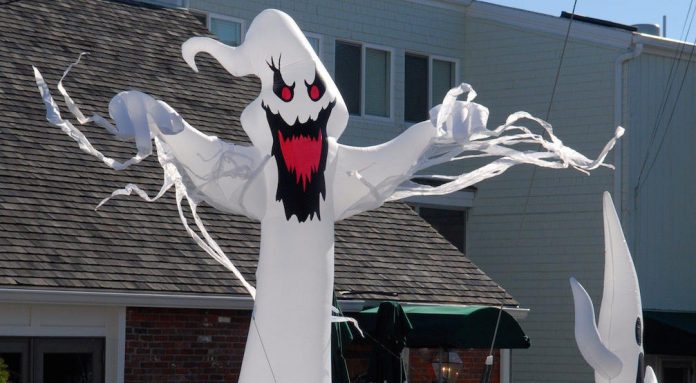 (Editor's note: This article appears in the September/October 2016 print edition of Boston Spirit magazine. Subscribe for free today.)
With Halloween, also known as "gay Christmas," creeping around the corner, we've assembled a motley crew of LGBT-friendly events scattered throughout the Bay State. Yes, it's time to whip out those Rocky Horror fishnets and indulge in the candy corn sugar high of the season. With our seven deadly picks for Halloween, we promise plenty of tricks and treats throughout October.
Spooky Bear Weekend in Provincetown
Spooky Bear Weekend punctuates a growing Halloween mob scene in Provincetown. In fact, the LGBT-friendly tip of Cape Cod attracts almost as many makeup-wearing freaks than Haunted Happenings in Salem. Of course, revelers in Provincetown slay the Witch City with their elaborate and fabulously over-the-top costumes. Yes, you haven't truly experienced a wicked gay Halloween until you parade up and down Commercial Street in drag. Northeast Ursamen present Spooky Bear Weekend. Friday, Oct. 28–Sunday, Oct. 30, ne-ursamen.org/spookybear.
Old School Game Show in Cambridge
Michael D'Angelo, host of the devilishly camp Old School Game Show, serves 1970s-era short shorts with a homoerotic, slasher-flick sensibility. In this killer live theater/game show cacophony, D'Angelo's hypersexual Teen Wolf enthuiasm is nicely balanced by his cast of Friday the 13th rejects which includes Boston's burlesque queen Ginny Nightshade. Based on D'Angelo and Nightshade's previous Halloween creations, Old School Game Show deserves two Freddy Krueger-style thumbs up. 7 p.m. Saturday, October 15. Oberon, 2 Arrow St. Harvard Square, Cambridge, oldschoolgameshow.com.
Hammond Castle in Gloucester
For 29 years, this Gloucester haunt transforms into one of the most spooktacular haunted houses in New England. Unfortunately, the museum announced that 2016 is the last year they will host their must-see haunted nights event. Inventor John Hays Hammond, Jr. built this breathtaking medieval-style castle in the late 1920s. Marrying late in life, the eccentric gentleman used the mansion as a laboratory and private residence until his death in 1956. In fact, he's buried in a crypt tucked away on the property and is rumored to be among the several wayward spirits who haunt the house. 7-11 p.m. Fridays & Saturdays, Oct. 14–Oct. 29. Hammond Castle, 80 Hespurus Ave. in Gloucester, hammondcastle.org.
Seven Deadly Sins in Salem
The Witch City has become synonymous with Halloween thanks to a month-long Haunted Happenings celebration. A Salem tradition for a quarter of a century, the annual Hawthorne Halloween ball has attracted guys and ghouls from all over the world since 1991. As the hotel transforms into an unrivaled see-and-be-seen spectacle of Hocus Pocus-style shenanigans, close to a thousand people attend the costume creep show that takes place across three floors. This year's theme is seven deadly sins. 7 p.m. Saturday, Oct. 29. Hawthorne Hotel, 18 Washington Square, Salem, hawthornehotel.com/Halloween.
Peirce Farm At Witch Hill in Topsfield
This Victorian-themed ghost story event showcases Peirce Farm at Witch Hill, a historic property that earned its witchy moniker because of its ties to Salem Witch Trials victim Mary Eastey. In fact, Witch Hill is where Rebecca Nurse's sister hid in fear before being carted off to the gallows in 1692. Victorian-era garb is encourages and organizers at Essex Heritage are planning an exclusive Edgar Allan Poe-style bash in the property's barn. www.peircefarm.com
Rock And Shock in Worcester
Blood bros Skeet Ulrich and Matthew Lillard celebrate the 20th anniversary of the seminal ghost-face slasher flick Scream at the three-day Rock and Shock convention at the haunted Palladium in Worcester. Courtney Gains and John Franklin, both Children of the Corn alums, round out this macabre music fest featuring monsters, music and mayhem. Who knew "the Woo" could be so damn cool? Friday, Oct. 14–Sunday, Oct. 16. Worcester Palladium, 261 Main St. in Worcester, rockandshock.com.
Dead Silence in Provincetown
Produced by legendary haunters from David Flower Productions, this immersive haunted theatrical attraction benefits the Friends & Supporters of the Provincetown Public Library. In case producer David Mazochi doesn't ring a bell, his group was responsible for "Ghost Town," the wickedly sinister Ptown attraction that scared revelers for five years in a row. Expect a creepy crew of ghost children and a wayward priest and nun. 6:30 p.m. Thursday–Sunday nights & Monday, Oct. 31. The Art House, 214 Commercial St in Provincetown, deadsilence-terror.com.