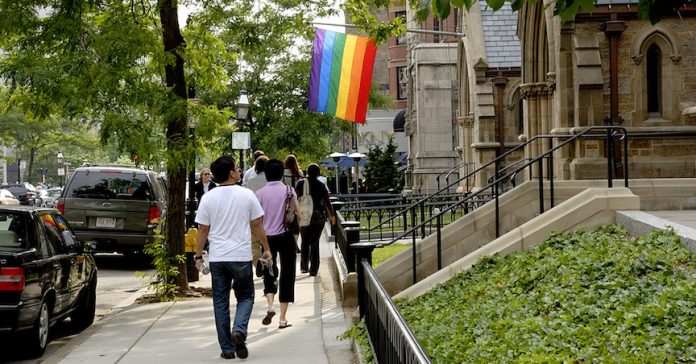 No doubt we've all had our ups and downs over the past year, but Boston has had a way up year, according to HRC's Municipal Equality Index, which gave the city a perfect score. Plus this is the fifth year running that the Bay State capital has earned top marks, making Boston the standard of success for the Index, which began five years ago.
"Boston has been a leader in advancing LGBTQ rights at a local level, a fact reflected in its membership in this exceptional group of municipalities earning perfect scores every year since the inception of our Municipal Equality Index," HRC president Chad Griffin said in an October 19 release. "For the past five years, Boston has stood up for its LGBTQ residents and municipal workers time and time again, serving as an inspiring example to other municipal, state and the federal governments on how to ensure full equality for all."
Overall, cities and towns in Massachusetts averaged an 85 out of 100—30 points above the national average. Cambridge, Provincetown, Salem, and Worcester all scored 100 this year as well. Rounding out the top scorers, Northampton came in at 88, Arlington at 81, Amherst 67, Springfield 64, and Lowell 54.
And throughout New England, Connecticut averaged 70 with a perfect 100 for Stamford, Maine came in at 58 with Portland topping state-wide at 81, Vermont scored 54 with 81 for Burlington, Rhode Island earned 52 with a perfect 100 for Providence, and New Hampshire came in at 42 with Durham topping the state-scoring at 70.
According to the HRC, it Municipal Equality Index "examines how inclusive municipal laws, policies, and services are of the LGBTQ people who live and work there. Cities are rated based on non-discrimination laws, the municipality as an employer, municipal services, law enforcement and the city leadership's public position on equality."