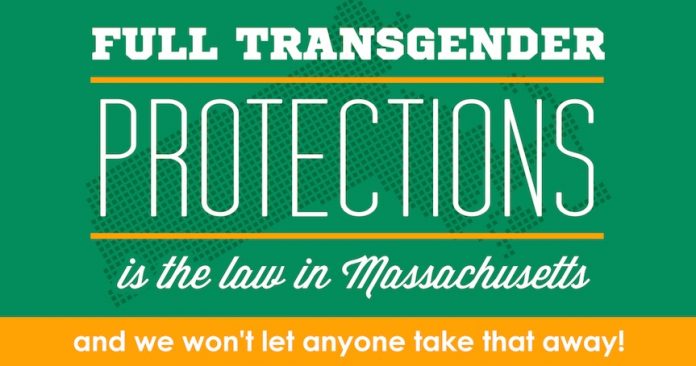 The anti-transgender advocacy group Keep Massachusetts safe has collected enough signatures to put a referendum question on the 2018 ballot asking voters to repeal the newly enacted and hard-won law that extends equal transgender rights—S.2407, "An Act Relative to Transgender Anti-Discrimination."
The group is calling its signature gathering "a tremendous grass roots effort that allowed Keep MA Safe to submit more than 38,000 certified signatures to the Secretary of State's Office last week."
"We look forward to spending the next two years continuing to raise awareness about the dangers of this law and making sure voters are fully educated on what is at stake," the anti-transgender advocacy group stated in an October 11 press release.
Deborah Shields, executive director of MassEquality, wasted no time issuing an October 12 press release in response, stating:
Make no mistake, the ballot measure IN NO WAY reverses or voids the Transgender Anti-Discrimination law. Transgender people are fully protected throughout Massachusetts—and they will remain protected between now and the 2018 election.
And the ballot measure does nothing to undermine the strength of the incredible coalition that came together to pass transgender non-discrimination in the first place. Together with our partners in the Freedom Massachusetts coalition, we were able to unite businesses, major sports teams, hundreds of faith leaders, law enforcement, and more behind the transgender community with the singular conviction that Massachusetts is stronger when transgender people are fairly and equally protected.
We won the Legislature with bipartisan support. And we will win again at the ballot in 2018 when Massachusetts voters affirm fairness.
What's more, Freedom Massachusetts, one of the hard-fighting advocates that saw the equal right bill through, is asking Bay State voters to pledge to show their commitment to protecting full transgender equality in Massachusetts:
This year, tens of thousands of Bay Staters united to pass #TransLawMA and make comprehensive transgender non-discrimination the law of the land. Today, I commit to protecting this hard-won law, and standing against extremists who would take it away. Fair-minded Bay Staters support the right of everyone to live free from discrimination—and I'm one of them.
You can sign the pledge by going to Freedom Massachusetts's sign-the-pledge web page.