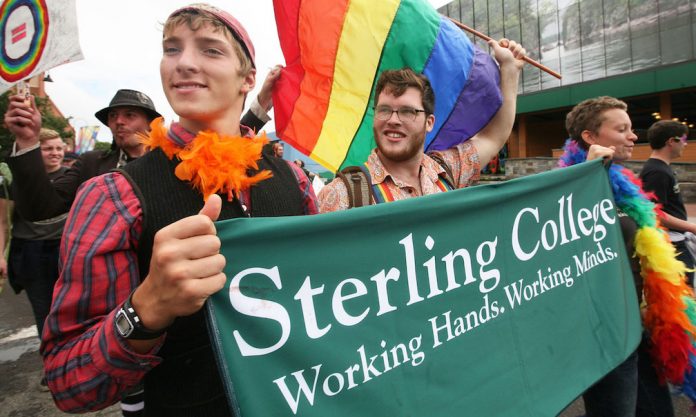 Sterling College raised its grade on the national Campus Pride Index this year to join an elite host of high-ranking, LGBTQ-friendly New England schools. Earning four stars as the fall 2016 semester commences, the Craftsbury Common, Vermont college beat its 2015 score of 3.5.
Campus Pride Index is a national benchmarking tool for colleges and universities which self-assesses LGBTQ-friendly policies and practices. Sterling joins just two other Vermont schools among 237 colleges and universities on the national index.
"We're thrilled by our higher rating, but not surprised," said Favor Ellis, dean of community at Sterling College in a September 1 press release. "We prove that rural campuses can be inclusive and welcoming to LGBTQ people. Our community is a complete ecosystem of transformation and learning. We live and learn together, and create a space where we value our connections with each other and the natural world. That includes making sure we're not resting on our laurels and that we continue to further the dignity of everyone at Sterling."
"I'm proud to go to one of the three Vermont colleges to be designated LGBTQ-friendly by Campus Pride, but I'm even more proud that our rating went up," said Savannah Storch '19 in the same release. "Sterling is always speaking out and standing up for environmental and social justice. This new rating reflects just how much thought and work we put in as a community on these issues."
Other four-star ranking colleges and universities in New England include: Amherst College, Babson College, Bowdoin College, Central Connecticut State University, University of Maine at Farmington, and Wheaton College. Coming in at 4.5 stars are: Williams College, University of Vermont, University of Maine at Machias, and University of Connecticut. Tufts University and University of Massachusetts, Amherst top the region's best scorers earning five stars each.
According to its, website, the index is owned and operated by Campus Pride, "the leading national nonprofit organization for student leaders and campus groups working to create safer, more LGBTQ-friendly learning environments at colleges and universities. The index is supported under the Campus Pride Q Research Institute for Higher Education as well as benefits from strategic partnerships with professional organizations in higher education and related LGBTQ nonprofit organizations."