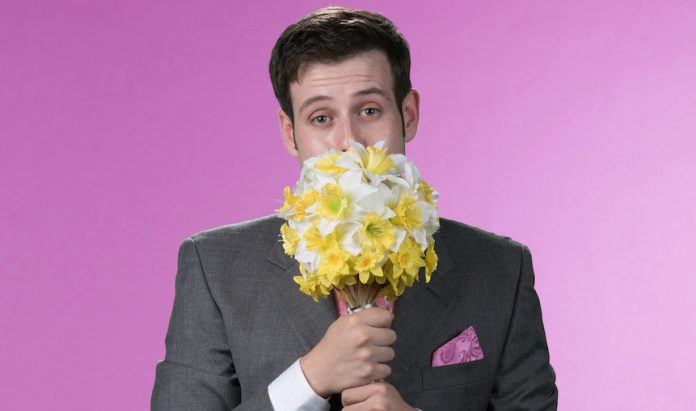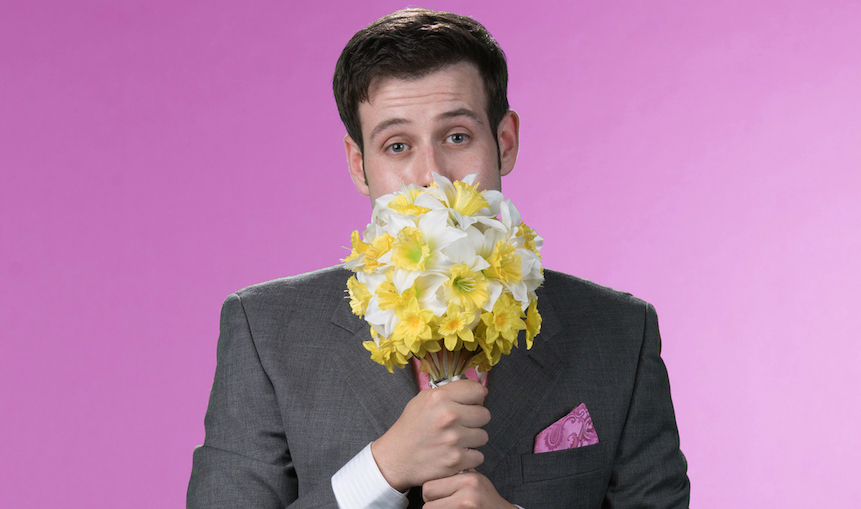 (Editor's note: This article appears in the current September/October 2016 print edition of Boston Spirit magazine. Subscribe for free today.)
Playwright Joshua Harmon's latest, "Significant Other," about a young gay man looking for love in New York City as each of his three best girlfriends gets married, is headed to Broadway in early 2017. But Boston's own SpeakEasy Stage was an early fan of Harmon's incisive, witty and timely snapshots of modern family life with its November, 2014 production of Harmon's Bad Jews.
And so SpeakEasy will open its new season this fall with "Significant Other," which runs to Oct. 8, under the direction of Paul Daigneault. It stars Greg Maraio, an East Boston native and costume designer who earned a Norton nomination for his role as Jonathan/Miranda in SpeakEasy's Casa Valentina last year. Boston Spirit had the following interview via email with New York City-based Harmon, 33, about Significant Other, wedding culture, his first play, and even Donald Trump.
[Boston Spirit] You say "Significant Other" isn't autobiographical. So where did the idea come from? Do you know people like the characters you've created in the play?
[Joshua Harmon] Look, the play isn't about the Tudors or King Tut or something, you know? I didn't have to do any research to write this play. But part of the beauty of writing is that no one gets to know what's true and what's fiction except for me. That said, the process of writing and rewriting and rewriting is such that even if something began from a truthful or even autobiographical place, the play itself makes demands on what it can hold, what it needs, what needs to be cut, and so over time, as the play takes shape, you end up with a work of fiction. Whatever remains of the personal is often illusive and weird.
[Spirit] How long did it take you to write the play? Did you have a pretty good idea of its direction at the start or did the play evolve over time?
[Harmon] I started working on the play 5 years ago. I was at a workshop at the Atlantic Center for the Arts in New Smyrna Beach, Florida. Annie Baker was running the workshop, and she asked us to write 9 short scenes which could be performed in any order. I wrote nine little scenes of Jordan Berman talking to his therapist about Will, a co-worker he wanted to take out on a date to see a documentary about the Franco-Prussian War. Those short scenes got me excited about writing something longer. Initially I thought I'd write an epic play about unrequited love through the ages, from Laura and Petrarch to Jordan and Will. In the year that followed, I wrote the first draft. It was epically long, but it morphed from being just a look at unrequited love to examining Jordan's friendships, and then his relationship with his Grandmother. That first draft was kind of insane—it had a live band, and all these Emily Dickinson poems. But over the next three years, I kept working on the play, in readings and workshops and on my own, until it found itself. It is definitely still a play about unrequited love and friendship, but in many ways it is an examination of loneliness, and what it feels like when your world seems to come apart and you are powerless in the face of change. I always knew where the play started and where it ended, that never changed. What changed was how I got there.
[Spirit] What is it that makes modern wedding culture so ripe for a biting comedy? What do you think about LGBT couples seeming to crave their own traditional weddings and taking on trappings, like two women in bride attire, that seem pretty absurd?
[Harmon] What has changed so rapidly about wedding culture is the way it's become divorced from religion. I know very, very few people who have had religious weddings. Almost every wedding I've been to– and certainly I don't represent all people, but in my own experience, most weddings I attend today are not officiated by a person of faith. It's a friend of the couple's, or a family member. There are often strict instructions that the word "God" not be mentioned. And yet, as people move away from religion, they seem to cling to all the other trappings, which is curious– Jordan refers to this in the play as the "religion of cliche." I've been to more weddings with father-daughter dances than with religious ceremonies, and it's unclear to me why people would want to break free from the perceived constraints of religion but retain these Hallmarky traditions that have no historical basis in anything. Why are people wearing white dresses? Why are we all gathering around to watch two people slice a cake? What is the actual point of that? Does it mean anything? Or is it just so deeply embedded in all of our psyches from having seen too many movies and tv shows about weddings that we think these are essential somehow. I'm not advocating for religion, but it's just really weird to me that people ultimately prioritized matching bridesmaid dresses over God.
[Spirit] Congratulations on heading to Broadway next year, with the same director and (I think) cast. Can you tell me how your relationship with Trip Cullman began and what's made it a successful collaboration?
[Harmon] I knew Trip's work as a director before I ever knew him, and I was a fan. My agent sent him the play, he connected with the material, we met, and decided to work together. It's always a great leap of faith when you sign on to work with someone new, because you are making what is ultimately a very intimate decision without sufficient knowledge. A writer and director collaborating on a new play are deeply connected in a way that is hard to explain. It's the kind of relationship where you will meet at ten for rehearsal, finish at five, then go out and talk for four hours, then take the subway home and call each other again, then stay up all night writing emails to each other, then lie awake thinking of all the other things you have to say to each other the next day. So you want to make sure you're working with someone you can trust and respect and believe in. Trip understood from the very beginning that the comedy in this play would take care of itself, and that his job was to make sure the undertow of pain, the examination of loneliness was ever-present. He never lost sight of that as we moved through rehearsals, which was something I really appreciated. We also wound up having a lot of fun together and being insane perfectionists and having (lovely) 40 minute fights about three-second-long sound cues. We are both obsessive (meticulous is a kinder word, no?), we are meticulous in the same way. It's a pleasure to meet a fellow traveler on that path.
[Spirit] Were you a "theater geek" a a kid? What or who influenced your interest in theater? Did you always want to write plays or did you (or do you now) ever work in other forms?
[Harmon] I have always loved theatre. I grew up in New York and got to see a lot of productions when I was too young to know what I was seeing, but so what? My Nana took me to Medea on Broadway when I was 10. I saw Janet McTeer in A Doll's House when I was 14. I had never heard of Ibsen, so the revival was, for me, a world premiere, and watching Nora leave her family at the end of the play was shocking and shattering. In high school, I wrote fiction and poetry and secretly wrote short plays. I think I was ultimately more interested in people than I was in describing where people were, and I also felt like I wasn't smart enough to write fiction. I worried I didn't know enough words or something, whereas with characters, you just have to worry about the words they speak aloud.
[Spirit] The "New York Spring Spectacular," a show you wrote for the Rockettes, included Donald Trump on video. Was that a comic interlude? Did you have any interaction with him? What did you think of his participation then, which was of course prior to his becoming a candidate?
[Harmon] It's so, so weird to look back on that. Yes, about a year and a half ago, when I was working on the Rockettes show, we had all these celebrity video segments, and one was with Donald Trump. I had to write lines for him, joking about his hair and saying, "You're fired." What's even weirder is that in his video segment, he was  speaking to a character named Bernie, who was fighting for his job, so there is all this video footage of Donald Trump saying, "Go Bernie Go! Go Bernie Go!" I was not at the filming of his segment, but he definitely came to opening night at Radio City with his family, and he stayed for a while at the party afterwards, and I remember being relieved because I thought that meant he hadn't been upset about how he came off in the show. It is shocking, to say the least, to think that the guy we asked to make a Rockette cameo could be (I hope not I hope not I hope not) our next President.