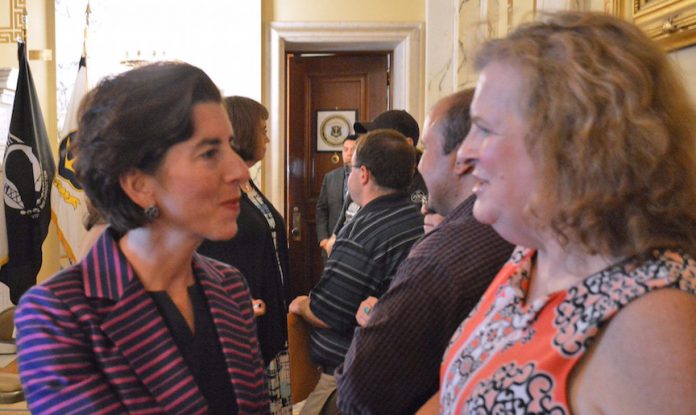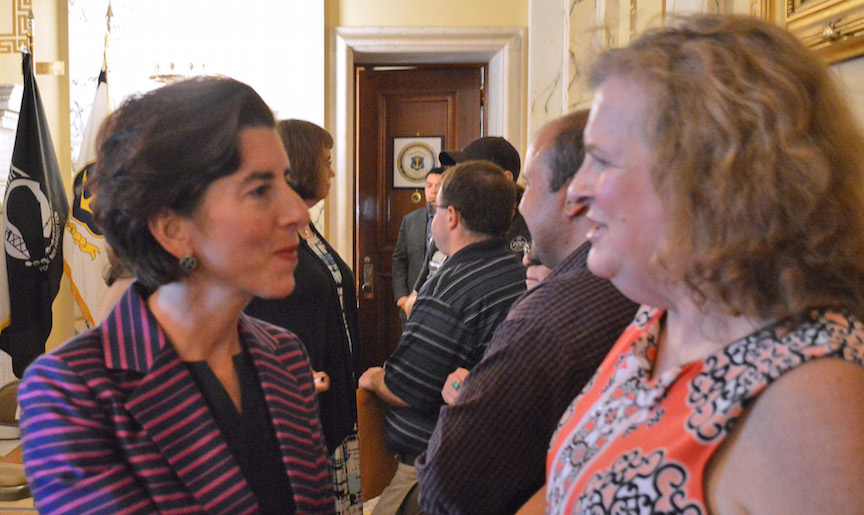 Reported by Kim Harris Stowell, Boston Spirit contributing writer
(Editor's note: This article appears in the September/October 2016 print edition of Boston Spirit magazine. Subscribe for free today.)
Transgender Transitional Services Covered for State Workers
The health insurance plan for Rhode Island state employees is now providing coverage for hormone therapy, surgery and other transition services for trans people, Governor Gina Raimondo announced at a State House news conference.
The announcement came on the 15th anniversary of Rhode Island becoming the second state in the country to explicitly prohibit discrimination on the basis of gender identity or expression, protecting transgender people in employment, housing, credit and public accommodations.
While the state is unsure how many transgender employees will take advantage of the coverage, Raimondo says it's a way for Rhode Island to continue leading the country in transgender equality.
In wake of Orlando Massacre, PrYSM Takes Action at RI Pride Festival
This year, Rhode Island Pride named Providence Youth Student Movement (PrYSM) "Honorary Marshals" of the annual Nighttime Pride Parade, in recognition of the group's commitment to supporting Southeast Asian youth with programs like Queer & Trans Thursdays, a safe space for young people of color.
After taking the main stage during the rally portion of the PrideFest festivities, PrYSM members delivered a strong and pointed message, rejecting both the position of Honorary Marshal and RI Pride itself.
The rancor behind their statement was based on RI Pride's meeting with Providence Police, RI State Police, Providence Emergency Management and others in order to beef up security at the festival, which took place only days after the Pulse club massacre.
"Pride is a symbol of the LGBTQIA community's survival against forces of oppression," they asserted. "In response to a tragedy where predominantly … people of color were murdered, Rhode Island Pride chose to work with the police and other institutions that continue to perpetuate violence against LGBTQ people of color."
Among other things, the group called for decreasing police presence and surveillance of communities of color during the festival and asked that RI Pride support local grassroots organizations financially and programmatically that seek to find alternatives to the police for community safety.
New Policies Supporting Providence Trans Students
The Providence School Board has passed a pioneering policy to support Mayor Jorge Elorza's priorities for a school district that is welcoming, accessible and free of discrimination.
Under the new policy, transgender and gender-expansive students are able to select the restroom they use, including opting for private restrooms and separate changing areas. Gender identity and expression may also be considered when selecting the physical education programs in which students participate.
In each school, a Transgender and Gender Expansive Student Point Team, made up of specially trained teachers, administrators, parent advocates, social workers, counselors, and health and physical education staff—will be established to provide individual support plans for students and their families.
Newport City Council Candidate Says He "Will Not Tolerate LGBT Perversion"
C. Andrews Lavarre has announced his intention to run for a citywide seat on Rhode Island's Newport City Council, saying he will fight "this pervasive and erosive culture of political correctness."
In his campaign announcement on Friday, Lavarre said that "LGBT sexual perversion, fornication, predation, violence, globalism, socialism, and all the other leftist elite 'isms' are not the norm and are not acceptable in any civilized society. I shall not tolerate them."
Sexual Health Conference for Providers & Organizers
On September 16, The Brown University AIDS Program, in collaboration with the New England AIDS Education and Training Center, is hosting a Conference on Sexual Health and Equity, to highlight the ongoing work of community organizations working to promote sexual health in Rhode Island.
The conference will be held at the Providence Marriott Downtown, 1 Orms Street, Providence on Friday, Sept. 16, 8:30 am–4 pm. The cost is $23.14.
RI Lesbians: A Club That Would Not Have You as a Member
A vote to change the nearly century-old policy, offering full membership only to men at the Westerly Yacht Club, failed to reach a two-thirds majority in a secret ballot vote earlier this summer. 207 men voted for the change, while 171 men voted to keep it the way it is.
Wives can become associate members, and can run committees and organize parties at the club, but can't vote. Single women are prohibited, as are married lesbians, because they are not married to a man. Gay men may join, but their husbands may not become associates, a status reserved for wives.