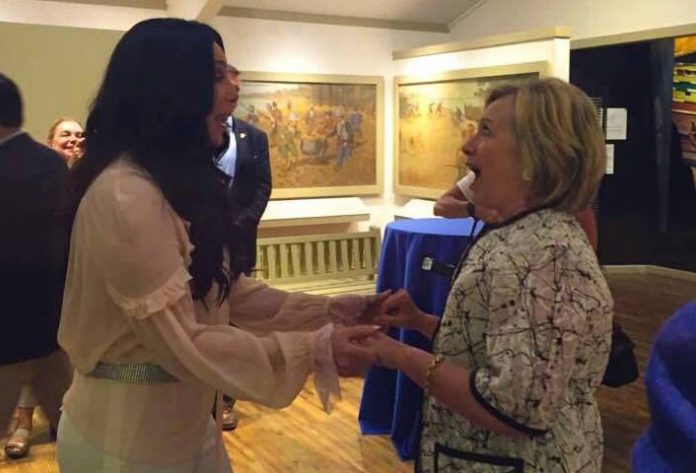 Provincetown rolled out its red carpet for two long-term supporters of the LGBT community on Sunday, August 21, when Cher joined Hillary Clinton at a campaign fundraising event, which raised approximately 1.5 million dollars and was attended by more than 1,000 cheering fans.
According to an August 21 Cape Cod Times report:
Prior to Clinton's arrival in a convoy of black SUVs, the pop icon Cher, 70, waved to a crowd outside the monument parking lot shortly before 2 p.m.
Though she did not perform, Cher's songs could be heard from atop High Pole Hill including "If I Could Turn Back Time," "If You Believe In Love" and "Woman's World."
Clinton arrived at 3 p.m. The press was not allowed inside, but those who attended the private event said she spoke for about 30 minutes or more.
"Hillary was great," [event co-host and organizer Alix] Ritchie said. "She was serious, to the point and funny. She was warm. She's a very warm person. And everyone was ecstatic she was here … the spirit of the crowd must have lifted her too."
Provincetown resident Gabby Hanna described the applause as deafening and the mood under the tents as "rocking."
"Cher gave a rousing speech about why she supports Hillary," Hanna said. "Hillary Clinton was amazing. She talked about her issues with passion."
Tickets for the event started at $45 and $500 for general admission and went to as high as $27,000. These sold out before they were even advertised. Nina Harrison, a part-time Provincetown resident, managed to get a $500 ticket because someone in-the-know sent her an email.
It was worth it, she said. Clinton was gracious, funny, and articulate.
"Cher was so brilliant," Harrison added. "You just hang on her every word because you know she is going to crack you up."
Other Clinton supporters in attendance included tennis legend Billie Jean King, Massachusetts Attorney General Maura Healey, U.S. Senator Ed Markey, former Congressman Barney Frank and Donna Lease Brazile, interim chairwoman of the Democratic National Committee.
Hannah, noted the Times article, added that:
The Democratic presidential nominee made a campaign promise at the event that few in Provincetown will forget.
When Clinton learned that the Pilgrims landed in Provincetown first before going to Plymouth, she said she would return to town for the 400th First Landing anniversary in 2020 either as a private citizen or as president.