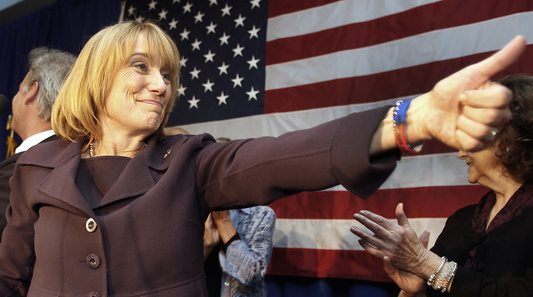 Reported by Alyssa Gillin, Boston Spirit contributing writer
(Editor's note: This article appears in the September/October 2016 print edition of Boston Spirit magazine. Subscribe for free today.)
New Hampshire Governor Bans Transgender Discrimination in the State
On July 1, New Hampshire governor Maggie Hassan signed an executive order that bans discrimination against transgender personnel in the state government.
"Throughout our history, it has been clear time and again that we always grow stronger when we work to ensure the full inclusion of all citizens in our democracy, our economy and our communities," said Hassan in a June 30 official press release. "By making clear that gender identity and gender expression are protected in the State's anti-discrimination policies, this Executive Order helps ensure that New Hampshire state government welcomes and incorporates the talents and contributions of all of our citizens."
Hassan's order also requires the Granite State's Justice Department and Department of Administration Services to review all contracts in light of the order and make sure protection against discrimination is provided for transgender people.
Previously, New Hampshire had laws on the books that assured the rights of lesbians and gay men and other minority groups. With Hassan's new executive order, New Hampshire now provides equal protection against discrimination for everyone in the state.
The state's Division of Personnel has until September 15 to give assistance to organizations on how to carry out the new policy.
HRC Endorses Hassan
The Human Rights Campaign is fighting for The Equality Act in both houses of the U.S. Congress and New Hampshire Governor Maggie Hassan is making its passage part of her bid to become a U.S. Senator this fall.
The Equality Act gives all LGBT Americans a chance of living in a fair community. Despite the U.S. Supreme Court's ruling mandating the recognition of marriage equality, many same-sex couples still face workplace discrimination, including getting fired for being gay. The act demands that no one person should be fired, evicted from their home, or denied services because of who they are or who they want to be, according to the HRC.
The bill ensures that all employees only get fired, hired, or promoted based on their performances and not on who they are. For Hassan's efforts on this bill and other support for the LGBT community, HRC has endorsed Governor Hassan in her bid to be New Hampshire's U.S. Senator.
Democratic chair embraces "most Pro-LGBT platform in history"
New Hampshire Democratic Party Chair and Delegate Ray Buckley became the first openly gay politician to serves as President of the Association of State Democratic Chairs and as Vice President of the Democratic National Committee.
As the DNC's national convention came to a close back in July, he told New Hampshire Public Radio that the party platform "we passed two days ago is absolutely the most pro-LGBT platform in the history of America. It's inclusive of full equality at every level and every instance."
"We have been celebrating the successes of the Obama Administration: repealing 'Don't Ask, Don't Tell,' passing hate crime legislation, and exceeding the historic number of openly LGBT citizens appointed to office," he said. "We also discussed the frustration that we've not been able to pass a non-discrimination act that's inclusive. We have a lot to do."
Get Your Stargazing On
A great time is in the stars at New Hampshire's annual Stargaze Women's Music Festival (September 23–25), a three-day camping event in Barrington where women from all over the country gather together to convert the woods in a magical space.
Here, you can find a judgment-free zone where women can let loose and be themselves. During the festival, one can enjoy concerts and other performances, a glow party, a "silent disco," poetry, art, workshops, workouts, and stargazing a'plenty. For details, go to www.stargazefestival.com.