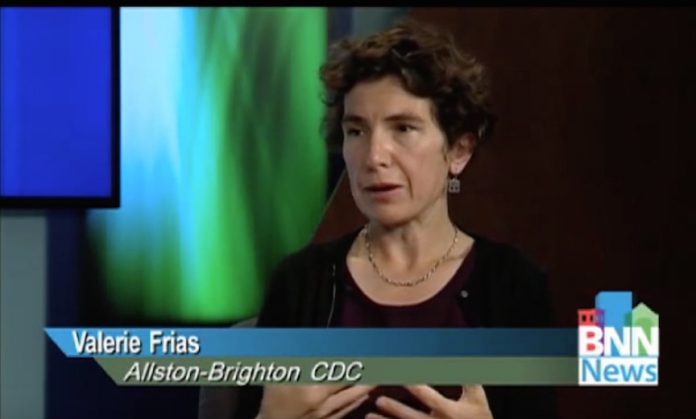 Greater Boston PFLAG is welcoming in a new executive director while bidding outgoing director Tom Bourdon a fond farewell.
Upon appointing Valerie Frias to the top spot, the organization's board chair Mark Mettler said in a July 27 GBFLAG press release,  "Greater Boston PFLAG is thrilled to have Val lead the organization at a time when demand for our services is growing. We continue to see a tremendous need for our services, particularly when it comes to supporting parents of transgender youth and providing training and programming centered on the complicated topic of gender identity to school faculties, corporations, and healthcare providers."
Said Mettler of the outgoing director:
Of course, Val's hiring means we are also saying goodbye to our current executive director, Tom Bourdon.  Tom has been a wonderful ambassador for our organization in his two-and-a-half years in the role, and with the support of the board, built the current staff structure and hired our terrific staff.  The organization is in great shape thanks in no small part to the relationships Tom has continued to cultivate and nurture across the community and our base of supporters.  During Tom's tenure, Greater Boston PFLAG's voice was heard often in the public square, always shining a positive light on our mission and our volunteer supporters.   Tom has been upfront with the board on his desire to pursue a different direction, and his professionalism and continued hard work during our search process and Val's onboarding will enable a smooth transition to a new director.
Frias, Mettler said, "will work closely with Greater Boston PFLAG Programming Director Kyle Megrath, to continue to evolve the organization's services and offerings, as well as work with the board to build the capacity to support further expansion of those services," adding that:
Our mission is broad, and support can take so many shapes and forms, the possibilities for us our endless. Val brings critical thinking skills developed in her experiences working for the federal senate, municipal and state government, as well as the non-profit sector."
Most recently Frias was associate director of the Allston Brighton Community Development Corporation (CDC), where her focus was on building public-private coalitions to serve the community.   "Much of Val's policy work has been in healthcare and housing, two critical issues for  the LGBTQ community Greater Boston PFLAG serves," commented Mettler.
In addition to her work at the Allston Brighton CDC, Frias served as Policy Director for Boston City Councilor Matt O'Malley, Senior Health Policy Analyst for the Massachusetts Taxpayers Foundation, General Counsel for Massachusetts State Senator Mark Montigny, and several other legislative support assignments and private law practice experience over the course of her career.  Frias earned her Juris Doctor degree at Northeastern University School of Law in 1999.
"Val understands the unique challenges and circumstances that members of the Greater Boston LGBTQ community face, and she has the compassion and experience to be a strong advocate on their behalf," said Attorney General Maura Healey. "She has worked hard for many years on important issues of equality and I congratulate her on her appointment as Executive Director of this important organization."
"I am truly honored to take on the role of Executive Director at Greater Boston PFLAG," said Frias.  "I have a deep personal connection to the mission of GBPFLAG, and I look forward to leading the organization into its next phase of growth and opportunity."