Advocacy | Community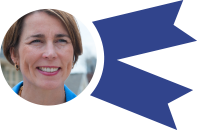 Political Power Player: Maura Healey
From the Revolutionary era to equal marriage, Massachusetts has always made history by looking to the future. With her election, Healey became the first openly gay state attorney in America, marking another huge milestone in on the road to political parity for LGBT people.
New Advocacy Effort: Our Tomorrow
Former GLAD director Lee Swislow is at the helm of Our Tomorrow, which unites over 100 nationwide LGBT organizations in a collaborative effort to answer an important question: Now that we have equal marriage, what's next? It's a campaign crowd-sourcing the fears, hopes and dreams that could shape the future of a movement.
Established Watchdog: Gay & Lesbian Advocates & Defenders (GLAD)
This year GLAD's Mary Bonauto, the same attorney to successfully argue Massachusetts' Goodridge case, stood before the Supreme Court and helped usher equal marriage into being nationwide. GLAD is still taking on first-of-their-kind cases, recently filing a complaint on behalf of a gay man denied insurance because he takes PrEP.
Employee Resource Group: Pride in Our Workplace (PIOW)
This LGBT networking nonprofit builds personnel power, connecting professionals and employers from industry-leading companies in the greater Boston area. With corporate partners like Fidelity, Bank of America and State Street on its side, PIOW cultivates a "who's who" network you need to know.
Best Under-the-Radar Fundraiser: GLBTQ Domestic Violence Project's Winter Plunge
No tux required for this fundraiser—just a swimsuit and a lot of nerve. Every February dozens of brave souls dive into the freezing water of Boston Harbor to raise money ($17,000 in 2015) that supports a vital community nonprofit, many donning costumes or decked in drag. Polar bears unite.
Pride Outside of Boston: Noho Pride
When you can't make it to Boston, the Berkshires are the place to go for Pride. Northampton's annual event, celebrating its 35th anniversary on May 7, draws about 20,000 people to its parade and live entertainment-filled festival. And though we love a wild time in the city, fresh air and scenery does a proud body good.
LGBT Family Group: Greater Boston PFLAG
The Boston-area chapter of the nationwide organizations continues to flourish under new executive director Tom Bourdon. He's building a robust network that incorporates wide-ranging intiatives, from in-school education to policy-related advocacy. And he recently brought in campaign manager Kyle Megrath, who previously managed successful equal marriage efforts in Rhode Island, Native, and Indiana.